We're a month into the 2018/19 NBA league year, and nearly all of this year's draft picks have deals lined up for the coming season. Of the 60 players selected on draft day in June, 52 have signed NBA contracts, while three intend to play overseas. That leaves just five unsigned 2018 NBA draft picks whose outlook for the '18/19 season remains unclear.
Here's a quick breakdown of those players, along with their options:
43. Orlando Magic: Justin Jackson, F (Maryland)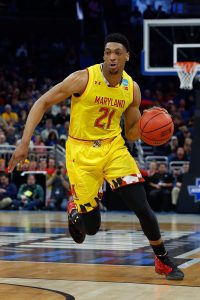 The highest draft pick without a contract in place, Jackson doesn't necessarily have a clear path to a roster spot in Orlando.
The Magic only have 14 players on guaranteed contracts, but 15th man Isaiah Briscoe received a partial guarantee and a three-year contract, suggesting Orlando doesn't simply plan to waive him once the preseason ends. Additionally, both two-way contract slots in Orlando have been accounted for now that the club has reached a deal with Amile Jefferson.
Josh Robbins of The Orlando Sentinel recently tweeted that he expects Jackson to play in the G League with the Lakeland Magic in 2018/19 after missing most of last season with a torn labrum. Robbins didn't specify what sort of contract Jackson will get, but perhaps he'll follow the Isaiah Hartenstein route — last year's 43rd overall pick spent a season with the Rio Grande Valley Vipers, Houston's NBAGL affiliate, before signing a standard contract with the Rockets this summer.
46. Houston Rockets: De'Anthony Melton, G (USC)
The Rockets will still have multiple roster spots open even after signing Carmelo Anthony later this week, so Melton should sign with the team at some point and spend the year on Houston's 15-man roster. The club may be exploring the trade market in an effort to put the finishing touches on its roster before making things official with its second-round pick.
When Melton does sign, it's possible he'll get a portion of the Rockets' taxpayer mid-level exception. That would allow the team to give him a three-year deal rather than a two-year pact.
49. San Antonio Spurs: Chimezie Metu, F/C (USC)
The Spurs' looming decision on Brandon Paul may have an impact on Metu's future. If Paul is retained and has his 2018/19 salary guaranteed, it would give San Antonio 15 players on guaranteed contracts, and it's hard to see who Metu might replace, barring a trade.
Still, it's worth noting that – according to ESPN's Bobby Marks – the Spurs used their bi-annual exception to sign Dante Cunningham rather than using the rest of their mid-level exception to complete the signing. That's a signal that the team has plans for its MLE — perhaps a three- or four-year deal for someone like Metu, since the BAE only would've allowed for a contract up to two years. If Paul is waived, Metu looks like the favorite to be the Spurs' 15th man.
If the Spurs determine there's no room on their 15-man roster for Metu, a two-way deal could be a possibility. San Antonio has yet to officially sign any players to two-way contracts for 2018/19.
53. Oklahoma City Thunder: Devon Hall, SG (Virginia)
57. Oklahoma City Thunder: Kevin Hervey, SF (Texas-Arlington)
Even after signing Hamidou Diallo last week, the Thunder have a pair of second-rounders without contracts. It will be interesting to see if Oklahoma City is willing to enter the season with a full 15-man roster, given the club's luxury tax concerns. Carrying just 14 players would save some money, but would mean signing neither Hall nor Hervey.
Currently, counting Diallo and recently-acquired wing Abdel Nader, whose salary will become guaranteed on Wednesday, the Thunder have 15 players on guaranteed deals. They could reduce that number to 14 by waiving Kyle Singler.
If the Thunder opt not to add Hall or Hervey to their NBA roster, a two-way contract would probably be in play for one of the two — the club has already given one two-way deal to Deonte Burton. The odd man out in that scenario could play overseas or sign a G League contract, with OKC retaining his NBA rights.
Photo courtesy of USA Today Sports Images.