Over the last month or so, we've seen a number of players traded or waived before their salary guarantees for the 2018/19 season kicked in. Players who sign contracts that feature non-guaranteed salaries in future years often have June or July trigger dates, forcing teams to make decisions fairly early in the offseason — that way, if the player is waived, he'll still have the opportunity to catch on with a new club well before the new season begins.
We've been tracking those decisions using our list of guarantee dates for the summer of 2018. While most of those deadlines are now in the rear-view mirror, a few teams will have decisions to make within the next week.
Here's a quick rundown of the decision dates to watch this week: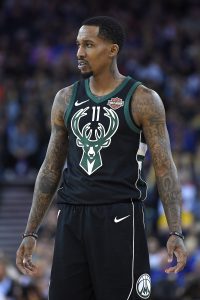 Brandon Jennings (Bucks): $2,222,803 salary becomes guaranteed after August 1.
Jennings' salary was initially set to become guaranteed if he remained under contract through July 1, and there were reports at the start of the month suggesting he believed that would happen. Instead, the Bucks pushed back his guarantee date until the start of August, giving the team time to assess whether it needed the veteran guard on the roster once it was done making other offseason moves.
The Bucks recently agreed to add Pat Connaughton to their backcourt and haven't been able to trade Matthew Dellavedova this summer, which may not bode well for Jennings' roster spot. Even if Milwaukee decides to cut him though, Jennings could return on a new minimum-salary contract at some point — his current deal calls for a $2.22MM cap hit, but the Bucks could give him the same salary on a new one-year contract with a $1.51MM cap charge.
Brandon Paul (Spurs): $1,378,242 salary becomes guaranteed after August 1.
The Spurs tend not to throw in the towel early on developmental projects, preferring to give them time to ease their way into larger roles. Paul only averaged 9.0 minutes per contest last season, but he appeared in 64 games, signaling that San Antonio had enough confidence in him to continue giving him NBA minutes rather than hiding away in the G League. That's a positive sign for Paul as decision day approaches.
Abdel Nader (Thunder): $1,378,242 salary becomes guaranteed after August 1. Already partially guaranteed for $450,000.
The Thunder went out of their way to acquire Nader from the Celtics in a trade last week even though the young wing already has a partial guarantee of $450K. Oklahoma City's luxury-tax issues are well documented and the club wouldn't have traded for him if it didn't intend to keep him, so Nader looks like a virtual lock to have his full salary guaranteed.
Okaro White (Cavaliers): $1,544,951 salary becomes partially guaranteed for $772,476 after August 5.
White, who missed a good chunk of the 2017/18 season with a broken foot, talked earlier this month about how he's still working to mentally get over that injury. He was physically healthy enough to play for the Cavaliers' Summer League team, but his performance in Las Vegas was a mixed bag. He showed off his energy and rebounding ability with 7.4 RPG in 23.9 minutes per contest, but struggled to put the ball in the basket, averaging just 6.0 PPG on 33.3% shooting.
The Cavs have roster spots to spare and could stick with White, but if they're still unsure about his place on the roster, they'll likely waive him by next Sunday to avoid guaranteeing half his salary for 2018/19.
Photo courtesy of USA Today Sports Images.