2:36pm: Smart has officially signed his new contract with the Celtics, according to agent Happy Walters, who tweeted a photo of the signing. The team has also issued a press release confirming the deal.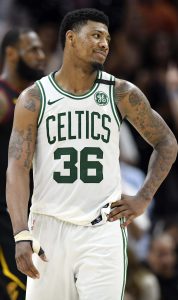 9:25am: Marcus Smart has agreed to a four-year, $52MM deal to remain with the Celtics, according to Shams Charania of Yahoo Sports. Jordan Schultz of Yahoo Sports first reported that the Celtics and Smart were finalizing a deal in that neighborhood after ESPN's Adrian Wojnarowski said the two sides were engaged in serious discussions.
The final terms are a little higher than the $46-$50MM range that was reported yesterday, and the deal takes one of the last high-profile free agents off the market. Smart has been with the Celtics since being selected with the sixth pick in the 2014 draft and has developed into one of the league's top perimeter defenders.
Smart's contract will push the Celtics into luxury tax territory, at least for now, notes ESPN's Zach Lowe (Twitter link). It will also become Boston's only contract between $7-20MM, which could make it a valuable trade chip down the line, adds Kevin O'Connor of the Ringer (Twitter link).
A restricted free agent, Smart had expressed frustrations with the slowness of the process while waiting for an offer. He met with several teams, including the Nets and Grizzlies, last week during the Las Vegas Summer League, according to Charania, but also had a private meeting with Celtics president of basketball operations Danny Ainge. Significant progress was made in the past few days, allowing the team to quickly finalize a deal in a meeting this morning with Smart and his agent, Happy Walters.
The Celtics were happy to get a long-term deal done with Smart a year before backcourt mates Kyrie Irving and Terry Rozier both become free agents, Charania adds. The team will now have at least one of its point guards locked up before entering into negotiations with Irving and/or Rozier.
Smart appeared in 54 games last season, with his playing time limited by a right hand injury caused by punching a glass frame and a torn UCL he suffered in his right thumb while diving for a loose ball in March that caused him to miss the start of the playoffs. He posted 10.2 PPG, 4.8 APG, and 3.5 RPG during the regular season, along with 1.3 steals per night.
"It's been a tough summer with free agency and his mom's (cancer)," Smart's high school coach, Kenny Boren, tells Mark Murphy of The Boston Herald. "It's been tough emotionally for him." (Twitter link).
Smart ranked 14th on our list of the Top 50 Free Agents of 2018. His signing leaves Clint Capela of the Rockets and Rodney Hood of the Cavaliers as the best unsigned players left on the market.
Photo courtesy of USA Today Sports Images.