JULY 23: Beasley's contract with the Lakers is now official, the team announced today in a press release.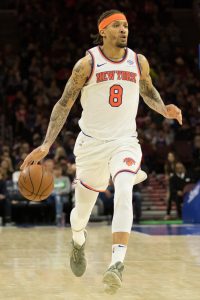 "Michael adds another component of versatility to our deep roster," GM Rob Pelinka said in a statement. "His length and ability to guard multiple positions, stretch the floor, play-make and create his own shot are all essential characteristics for us. Coming off one of the finest years of his career, we think Michael is poised to have a very exciting and strong season for us."
JULY 20: Free agent forward Michael Beasley has agreed to a contract with the Lakers, Shams Charania of Yahoo Sports tweets. It's a one-year, $3.5MM contract, according to Chris Haynes of ESPN (Twitter link).
Los Angeles used a big chunk of its $4,449,000 room exception to get Beasley in the fold.
Exactly what kind of role Beasley will carve out is a big question mark. He'll join a forward rotation of LeBron James, Kyle Kuzma, Brandon Ingram and Lance Stephenson. Luol Deng is still on the roster as well, though Los Angeles is trying to find a way to dump his contract.
Beasley fits in with a locker room already full of volatile personalities. Along with Stephenson, the Lakers have also signed two other players this summer who are no strangers to controversy, Rajon Rondo and JaVale McGee.
Beasley, still just 29, has bounced around the league since the Heat made him the second pick in the 2008 draft. He's also played for the Timberwolves, Suns, Rockets and Bucks before a productive stint with the Knicks last season. He averaged 13.2 PPG, his highest total since posting a career-best 19.2 PPG with Minnesota in 2010/11. He also averaged 5.6 RPG and 1.7 APG while appearing in 74 contests, including 30 starts.
The Knicks lost interest in bringing back Beasley after signing former Magic forward Mario Hezonja.