JULY 23, 4:56pm: The team has made the signing official, according to Adam Zagoria of the New York Times (Twitter link).
JUNE 30, 11:45pm: The Nets and Ed Davis have agreed to terms on a one-year, $4.4MM contract, reports ESPN's Adrian Wojnarowski (via Twitter). Davis had been an unrestricted free agent.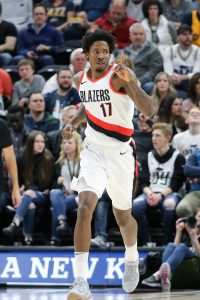 Jusuf Nurkic's primary backup at the five during the 2017/18 season, Davis appeared in 78 games for the Trail Blazers, averaging 5.3 PPG on 58.2% shooting. The 29-year-old was also a force on the glass, racking up 7.4 RPG in just 18.9 minutes per contest.
Davis reportedly had interest in remaining in Portland, so it's somewhat surprising that the two sides couldn't work something out, given the modest price of his agreement with Brooklyn. However, the Blazers have been particularly cost-conscious so far this summer, having declined to tender qualifying offers to rotation players Shabazz Napier and Pat Connaughton.
Davis figures to step into a regular role for the Nets behind young center Jarrett Allen. Brooklyn is acquiring Dwight Howard in a trade with Charlotte, but the club is expected to negotiate a buyout with the former No. 1 pick, clearing the way for Davis to become Allen's primary backup.
While the Nets should have some cap room available after buying out Howard, it's possible that the team will wait to finalize its reported agreement with Davis. The room exception is worth $4,449,000 in 2018/19, so Davis' deal would fit nicely.
Photo courtesy of USA Today Sports Images.