JULY 13, 8:42pm: The trade is official, according to a Nets press release.
JULY 12, 5:18pm: The Nuggets have found a team willing to take on their unwanted contracts, according to ESPN's Adrian Wojnarowski, who reports that Denver is sending Kenneth Faried, Darrell Arthur, a protected 2019 first-round pick, and a 2020 second-round pick to the Nets in exchange for Isaiah Whitehead.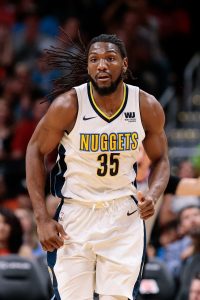 It's a salary-dump deal for the Nuggets, who intend to waive Whitehead after acquiring him, Wojnarowski adds. Whitehead's salary guarantee deadline was recently pushed back, so his $1.54MM salary for 2018/19 remains non-guaranteed — Denver won't be on the hook for it.
Having reached a deal with Isaiah Thomas earlier in the night, the Nuggets were poised to have 16 players on guaranteed NBA contracts and were well into luxury-tax territory. Their deal with the Nets will solve both issues, reducing their roster count to 14 players after Whitehead's release and getting their total team salary below the tax threshold.
Bobby Marks of ESPN.com has the full details, noting that the Nuggets should be about $8.7MM below the tax line after the trade, giving the team room to use the rest of its mid-level exception to fill the last spot on its roster, if it so chooses. So far, Denver has committed $2MM of its MLE to Torrey Craig and is believed to have used about another $1MM on Jarred Vanderbilt.
As Marks observes, trading Faried, Darrell Arthur, and Wilson Chandler (to Philadelphia) projects to save the Nuggets approximately $90MM in salary and tax payments. The team gave up a first-round pick and two second-rounders in those two deals.
The Nuggets have also created three sizable traded player exceptions to work with — those TPEs are equivalent to the salaries for Faried ($13.76MM), Chandler ($12.8MM), and Arthur minus Whitehead ($5.92MM)
Meanwhile, from the Nets' perspective, they'll rent their cap room in order to add a pair of draft assets. The big prize is the 2019 first-rounder, which is top-12 protected, according to Wojnarowski (via Twitter).
Coming into the day, Brooklyn didn't have the cap room necessary to absorb both Faried and Arthur, but the club created that space by trading Jeremy Lin to the Hawks in another deal. It's not clear whether Faried and/or Arthur are in the Nets' plans for 2018/19 or if they'll become buyout candidates.
Photo courtesy of USA Today Sports Images.