JULY 6th, 6:46pm: The signing is official, per team press release.
JUNE 30th, 11:19pm: According to ESPN's Adrian Wojnarowski, the contract will be a four-year pact worth $137MM. The deal will include a player option.
10:45: Free agent guard Paul George has committed to re-signing with the Thunder, Adrian Wojnarowski of ESPN tweets. The news comes at the end of a year-long recruitment effort after the franchise acquired the former Pacers star in a stunning 2017 trade.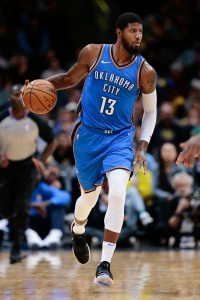 General manager Sam Presti and the Thunder wagered that the club would be able to convince George to stay in town despite the very public revelation that he had eyes for the Lakers.
While the Thunder didn't make the playoff run they may have hoped this season, there's no denying that the presence of George gives the team a higher long-term ceiling.
In 79 games with Oklahoma City, George averaged 21.9 points, 5.7 rebounds and 3.3 assists per game.
While he ultimately signed for less, George was eligible for a five-year, $177MM deal as a player with 7-9 years of experience signing with the same team. The 2018/19 cap hit for such a deal will be $30.6MM, per the recently revealed salary cap figures. Prior to the announcement of the deal, reports indicated that the star forward might prefer a shorter-term deal, possibly a two-year pact with a second-year option.
Now that George has signed on for the max, it will push the Thunder deep into luxury-tax territory. Carmelo Anthony, who has a $28MM salary for 2018/19, could be a candidate to be waived and stretched if Oklahoma City needs to cut costs.
Photo courtesy of USA Today Sports Images.