JULY 6: VanVleet's new contract is official, the Raptors announced in a press release. "We all know Fred's personal motto is 'Bet on Yourself.' We know that Fred is no gamble – he's hardworking, dedicated, and smart, and has been fantastic for us," Raptors president Masai Ujiri said. "We're thrilled he'll be a big part of the Toronto Raptors for seasons to come."
JULY 1: The Raptors have agreed to re-sign free agent point guard Fred VanVleet, according to Shams Charania of Yahoo Sports (Twitter link). Charania reports that it will be a two-year, $18MM contract, while Michael Scotto of The Athletic adds (via Twitter) that the deal won't include any option years.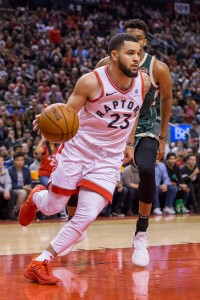 VanVleet, who initially joined the Raptors as an undrafted free agent out of Wichita State in 2016, emerged as a key part of the team's rotation in 2017/18. The leader of the NBA's most productive five-man second unit, VanVleet averaged 8.6 PPG and 3.2 APG with a .414 3PT%. He was frequently a part of Toronto's crunch-time lineups, and was a finalist for the league's Sixth Man of the Year award.
Even without account for VanVleet, the Raptors already have $126MM+ in guaranteed money on their books for 2018/19, so there was some concern about the club's ability to bring back the key reserve, particularly if the 24-year-old received a lucrative offer sheet from a rival suitor. However, a prime landing spot for VanVleet disappeared early on Sunday morning when the Suns committed their cap room to a deal for Trevor Ariza rather than using it to pursue a point guard.
With VanVleet projected to get a starting salary close to $9MM, the Raptors are set to go well into tax territory, so the team may look to cut costs elsewhere. Multiple reports this offseason have stated that no one on Toronto's roster is untouchable, including highly-paid veterans like Kyle Lowry, DeMar DeRozan, Serge Ibaka, Jonas Valanciunas, and C.J. Miles. The club was also said to be gauging the market for Norman Powell.
The Raptors will use their Early Bird rights to re-sign VanVleet, so they'll still have the taxpayer mid-level exception available.
Photo courtesy of USA Today Sports Images.