11:06am: The trade is now official, according to a press release issued by the Spurs.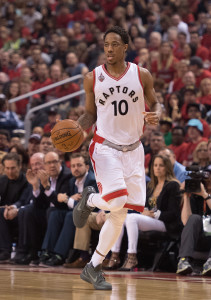 8:07am: The deal will send Leonard and Green to Toronto in exchange for DeRozan, Poeltl, and a protected 2019 first-round pick, league sources tell Wojnarowski (Twitter link). Jabari Young of The San Antonio Express-News first reported Green's inclusion in the trade (Twitter link).
Wojnarowski adds (via Twitter) that the 2019 first-round pick is protected from 1-20. If it doesn't change hands after one year, it would turn into a pair of second-round picks instead.
The extra assets beyond Leonard and DeRozan look good for the Raptors, who will get to hang on their top two prospects in Anunoby and Siakam, and will only surrender a late first-rounder, at worst. Toronto will also add Green, a three-and-D wing who is a career 39.5% three-point shooter and is on a $10MM expiring contract.
Toronto will also create a modest trade exception equivalent to Poeltl's $2.95MM salary in the deal.
7:15am: The Raptors and Spurs have reached an agreement in principle on a deal that will send Leonard to Toronto and DeRozan to San Antonio, reports Wojnarowski (via Twitter). According to Woj, there are more pieces involved on both sides, and players are still being informed about the deal. A trade call with the NBA is expected to happen later today.
4:53am: The Raptors are finalizing a trade to acquire Kawhi Leonard from the Spurs, Chris Haynes and Adrian Wojnarowski of ESPN report. San Antonio would receive a package headlined by DeMar DeRozan in the swap.
The Raptors and Spurs have been exploring such a trade for at least two weeks now, though Haynes adds that DeRozan was allegedly told during the Las Vegas summer league that he wouldn't be dealt.
"Be told one thing & the outcome another," DeRozan wrote in a story on his Instagram account early Wednesday morning. "Can't trust em. Ain't no loyalty in this game. Sell you out quick for a little bit of nothing."
Neither Leonard nor DeRozan appears to be particularly pleased with the potential deal, with Haynes noting in a subsequent tweet that sources have told him that Leonard has no desire to play in Toronto. As ESPN's Zach Lowe tweets, Leonard would risk fines and possible forfeiture of his 2018/19 salary if he's traded to the Raptors and doesn't report to the team, unless he can provide a legitimate medical reason.
The two clubs are said to have discussed several packages and a deal could be agreed to in principle as early as today.
With Leonard eligible to become an unrestricted free agent next summer, Raptors president Masai Ujiri is taking a substantial risk trading a committed All-Star for an outside player with eyes for Los Angeles. That said, the Thunder took a similar chance trading for Paul George last summer and it paid off when he re-signed long-term earlier this month.
Leonard, who has a 15% trade kicker, is set to earn approximately $23.1MM in 2018/19 (counting that trade bonus) before becoming eligible for free agency a year from now, so even if the Kawhi experiment doesn't work, the Raptors could clear some long-term salary from their books in a deal. DeRozan will make $27.74MM annually for the next two years, with a player option worth the same amount in 2020/21.
Given the difference in salaries between the two stars, and the fact that the Spurs will likely receive another player or two in any deal, the Raptors may also take on another veteran to even out the '18/19 money involved. Patty Mills ($11.57MM), Danny Green ($10MM), and perhaps even Pau Gasol ($16.8MM) would be candidates.
As we wrote yesterday, the supposed asking price for Leonard could be as high as an All-Star caliber player, high-potential young players, and draft picks. If DeRozan represents the first item on that list, it will be interesting to see what other pieces round out the offer. Toronto's roster features a handful of intriguing young players, including OG Anunoby, Pascal Siakam, and Jakob Poeltl. The Raptors also control all their future draft picks.
At full health, a content, committed Leonard could easily justify such a substantial haul, but concerns about his quadriceps injury and his willingness to re-sign with a non-L.A. team trading for him may have diminished his value.
Although the Raptors have been prominently linked to Leonard of late, Shams Charania of Yahoo Sports notes in his own story on the potential deal that the Lakers, Clippers, Sixers and Celtics were said to be suitors as well. On Tuesday, we learned that the Nuggets, Suns, Trail Blazers, and Wizards also talked to San Antonio about a possible trade.
Given that he was limited to just nine games last season, and didn't look like his All-NBA self, it's hard to gauge exactly what the Raptors might expect to see from Leonard on the court. Still, he's just one year removed from back-to-back finishes as a top-three MVP candidate and a member of the All-NBA First Team.
Those All-NBA nods allowed Leonard to qualify for a Designated Veteran Extension worth 35% of the cap with the Spurs. By the time he officially became eligible to sign such an extension this week though, the star forward's desire to leave San Antonio was well known, making a new deal with the Spurs an extreme long shot — even if the club was willing to offer it.
Leonard will lose his eligibility for that five-year super-max deal – worth an estimated $221MM – if he's traded. If he's sent to Toronto and becomes a free agent next summer, Kawhi would be eligible for up to five years and nearly $190MM with the Raptors or four years and $140.6MM with another team, based on current cap projections for 2019/20.
In nine seasons with the Raptors, DeRozan has averaged 19.7 points and 4.1 rebounds per game. The 28-year-old has been named an All-Star in four of the past five seasons and played an instrumental role in Toronto's rise up the Eastern Conference ranks the past half decade.
Per Wojnarowski (via Twitter), a Spurs/Raptors swap has been close for a few days, but has nearly fallen apart multiple times. Ujiri wanted to let DeRozan know about the impending deal himself late last night, according to Woj, who adds that DeRozan and good friend Kyle Lowry talked a few hours ago.
Photos courtesy of USA Today Sports Images. Luke Adams contributed to this post.