JULY 4: The Timberwolves have officially re-signed Rose, the team announced today in a press release. While most signings can't be finalized until after the July moratorium, deals that use the minimum salary exception are permitted, so Minnesota didn't have to wait until Friday.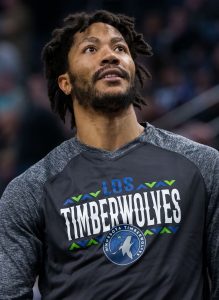 JULY 1: Former MVP Derrick Rose is finalizing a one-year deal to return to the Timberwolves, according to ESPN's Adrian Wojnarowski (via Twitter). Shams Charania of Yahoo Sports confirms (via Twitter) that the two sides have agreed to a one-year, minimum salary contract.
Since Rose has 10 years of NBA experience, his full salary for 2018/19 figures to be $2,393,887, the minimum for a 10-year veteran.
Rose, 29, is coming off a mostly disappointing season in 2017/18 as he appeared in 25 total games split between the Cavaliers and Timberwolves. Despite starting the year as Cleveland's starting point guard, injuries — a familiar theme in his career — derailed Rose's season, and multiple reports suggested he might retire. Instead, the Cavaliers shipped Rose to Utah as part of a three-team deal at the deadline and he was promptly released by the Jazz.
The Timberwolves, anchored by Rose's former head coach with the Bulls, Tom Thibodeau, brought the veteran aboard in early March for their charge to the postseason. Rose appeared in just nine games with Minnesota, averaging 5.8 PPG in 12,4 minutes per contest. All told, Rose averaged 8.4 PPG and 1.4 APG between Cleveland and Minnesota.
However, Rose showed some life in the postseason as the Timberwolves faced the Rockets in the first round. Coming off the bench, Rose posted double-digits in four of the games, including back-to-back 17-point performances as the Wolves fell to Houston in five games. For the series, Rose averaged 23.6 minutes per game.
While it's clear that he is far removed from his past MVP form, Rose's postseason rejuvenation proved he is still a useful role player. Barring any other moves, the veteran will likely back up Jeff Teague along with Tyus Jones.
Photo courtesy of USA Today Sports Images.