JULY 13, 6:53pm: The signing is official, according to a team press release.
JULY 12, 8:35pm: Free agent guard Wayne Ellington will re-sign with the Heat, according to Barry Jackson of The Miami Herald.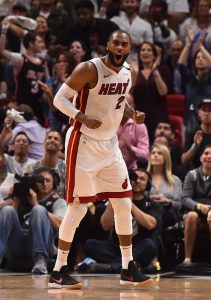 Ellington will receive $6.27MM for one year, the same amount he made in 2017/18. Negotiations lasted almost two weeks because the organization didn't want to go too far into luxury tax territory, Jackson adds.
The Heat will officially become a taxpaying team, according to Bobby Marks on ESPN Now. As Marks details, a total team salary of $127MM puts Miami over the tax threshold by $3.2MM and gives the club a projected tax bill of $4.9MM so far.
With 12 guaranteed contracts on their books so far for the upcoming season, the Heat still have their $5.3MM taxpayer mid-level exception available. Dwyane Wade and Udonis Haslem are candidates to return and fill a couple of the club's open roster slots.
The Heat will continue to try to trim salary, with Hassan Whiteside and Tyler Johnson among the players being made available in trade, a rival executive tells Jackson. Ellington isn't a trade candidate, but for what it's worth, he'll be able to veto any deal this season because of the one-year Bird rights restriction.
Ellington, 30, has been a deadly shooter off the bench in his two seasons with the Heat. He averaged a career-best 11.2 PPG during the 2017/18 season, sinking 227 3-pointers and shooting 39% from long distance.
Photo courtesy of USA Today Sports Images.