Longtime NBA big man David West has announced his retirement from the NBA after 15 seasons. West issued a statement on Twitter confirming his decision, which comes one day after he turned 38 years old.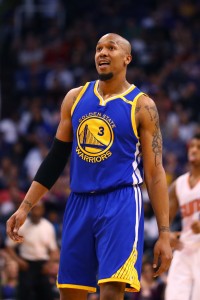 "I have been fortunate enough to live out my childhood dream of playing in the NBA. After 15 seasons I have decided to retire from the game of basketball," West wrote. "I am humbled and thankful for the support of my family, friends, coaches, teammates, organizations, and fans throughout this experience. To anyone who has ever cheered me on, been in my corner, prayed, or simply said a nice word on my behalf, I am grateful."
West, who began his career as a New Orleans Hornet after being selected with the 18th overall pick in the 2003 draft, played in New Orleans for his first eight years in the NBA, earning a pair of All-Star nods in 2008 and 2009 and teaming with Chris Paul during many of the most successful seasons in franchise history.
West later spent four years with the Pacers, one with the Spurs, and his last two in Golden State, where he won a pair of NBA championships with the Warriors. For his career, the former Xavier standout averaged 13.6 PPG and 6.4 RPG in 1,034 regular season games. He also appeared in 118 postseason contests, contributing 11.3 PPG and 5.6 RPG in the playoffs.
Although West earned nearly $100MM in salary throughout his NBA career, per Basketball-Reference, his last few years in the league were defined by his willingness to play for the veteran's minimum for championship contenders.
After winning his first title in 2017, West re-signed with the Warriors, but reports at the time indicated that it was expected to be his last year, with retirement coming in 2018. That's exactly what happened, with West's announcement coming just days after another accomplished NBA veteran, Manu Ginobili, announced his own retirement.
While it's unclear what the next step will be for West, he has long been one of the most widely-respected players in the game, according to Chris Mannix of Yahoo Sports, who tweets that the 38-year-old could have a future in anything from coaching to broadcasting to front office work. It likely won't take long for West to receive coaching and front office offers, if he wants them, notes Zach Lowe of ESPN.com (Twitter link).
Photo courtesy of USA Today Sports Images.