AUGUST 31: The trade is official, the Rockets and Suns announced in separate statements.
AUGUST 30: The Rockets and Suns have agreed to a trade, reports ESPN's Adrian Wojnarowski (via Twitter). According to Wojnarowski, Phoenix will acquire Ryan Anderson and De'Anthony Melton from Houston in exchange for Brandon Knight and Marquese Chriss.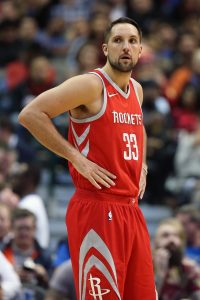 Anderson has been on the trade block in Houston for over a year, with his expensive long-term contract having stood in the way of a deal until now. While the Rockets will finally shed the two years and $41.69MM remaining on Anderson's deal, they'll take back another pricey multiyear contract — Knight is owed $30.28MM over the next two seasons.
Chriss will earn $3.21MM in 2018/19 and has a team option worth just over $4MM for 2019/20. The Rockets will have to make a decision on that option by October 31 of this year. As for Melton, he has yet to sign his first NBA contract, so Houston is technically trading his draft rights to Phoenix. The Suns will have the opportunity to lock him up once the trade is official.
While the in-the-tax Rockets will save some money as a result of the swap, the on-court implications are even more interesting than the financial ones. Anderson's impressive three-point range allowed Houston to stretch the floor on offense, but his defensive shortcoming made him unplayable in certain matchups — he didn't see much action in the Western Conference Finals against the Warriors last season, for instance.
In place of Anderson and Melton, the Rockets will be receiving two players with intriguing upside. Knight missed the entire 2017/18 season with an ACL tear, but isn't far removed from averaging 19.6 PPG and 5.1 APG in 52 games for the Suns in 2015/16. Assuming he's back to full health, Knight could provide Houston with scoring and play-making off the bench behind Chris Paul and James Harden.
Chriss, meanwhile, has yet to develop into the sort of difference-making big man the Suns hoped for when they drafted him eighth overall in 2016. However, he's still just 21 years old and has shown flashes of potential during his first two NBA seasons. It's not clear how he'll fit into the Rockets' plans.
The Suns, apparently not ready to bet on Chriss taking significant steps forward, will replace him in the frontcourt with Anderson, a veteran stretch four capable of playing alongside No. 1 pick Deandre Ayton. Phoenix will also add Melton, a 2018 second-round pick who had an impressive Summer League showing for the Rockets, filling the box score with 16.4 PPG, 7.2 RPG, 4.0 APG, and 3.0 SPG in five games in Las Vegas.
The deal will leave the Suns lacking in experience and depth at point guard. Second-rounders Melton and Elie Okobo could see minutes immediately, with Shaquille Harrison and Isaiah Canaan also in the mix.
It will be interesting to see whether Phoenix has another move up its sleeve to fortify that point guard position or if the club simply plans to lean more heavily on Devin Booker as its primary play-maker. In his full report on the trade, Wojnarowski notes that the Suns may envision a larger role for Harrison.
The Rockets will create a modest traded player exception worth about $2.58MM in the deal.
Photo courtesy of USA Today Sports Images.