The Thunder have made three cuts ahead of Monday's regular season roster deadline, announcing that they've waived swingman David Nwaba, guard Trey Burke, and forward/center Marquese Chriss.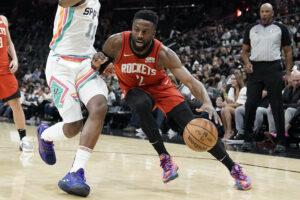 All three players were sent from Houston to Oklahoma City last month, but that trade was more about cutting costs for the Thunder than it was about the players involved. Oklahoma City also received Sterling Brown in that deal and waived him too, so none of the four players acquired from the Rockets are still under contract with the Thunder (Houston has also waived the four players it acquired in the trade).
Three cuts were required for the Thunder because they had been carrying 18 players on guaranteed contracts after signing Isaiah Joe earlier today.
The team will be on the hook for the 2022/23 salaries for Nwaba ($5,022,000), Burke ($3,423,750), and Chriss ($2,193,920), assuming they go unclaimed on waivers. However, none of the three are owed any guaranteed money beyond this season. Nwaba, Burke, and Chriss have been solid rotation players in the past, but none were particularly effective for Houston in 2021/22.
Nwaba averaged 5.1 PPG and 3.3 RPG in 46 games (13.2 MPG), while making just 30.6% of his three-point attempts; Burke put up 5.1 PPG and 1.4 APG in 42 games (10.5 MPG) and shot a career-low 31.7% on threes; Chriss averaged 4.5 PPG and 3.0 RPG in 34 appearances (10.2 MPG) and underwent knee surgery in June.
The Thunder now have 15 players on standard contracts and a pair on two-way deals, so their roster is set for the regular season.
As for Joe, his new deal with the Thunder is a three-year, minimum-salary contract that is fully guaranteed for the first season and non-guaranteed in year two, with a third-year team option, Hoops Rumors has learned. Oklahoma City used a portion of its mid-level exception to complete the signing, which head coach Mark Daigneault expressed enthusiasm about in a Monday media session.
"He's a guy that our scouts and our people have liked for some time," Daigneault said, per Joe Mussatto of The Oklahoman (Twitter video link).