Twenty-three players became eligible for rookie scale extensions when the 2018/19 NBA league year began in July. One of those 23, Devin Booker, quickly finalized a new deal with the Suns, leaving 22 other players who could sign rookie scale extensions before the October 15 deadline.
In the weeks leading up to that deadline, we'll be taking a closer look at some of the strongest candidates for new contracts.
[RELATED: 2018 NBA Extension Candidate Series]
Our examination of this year's candidates for rookie scale extensions continues today with Pistons swingman Stanley Johnson. Let's dive in…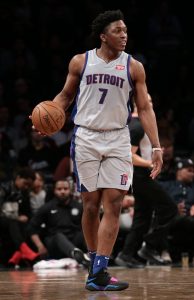 Why the Pistons should give him an extension:
The ability to guard multiple positions has become an increasingly valuable skill in the current NBA. With so many teams going with smaller lineups, defenders must be able to switch onto smaller, quicker players and bigger, stronger opponents alike and still hold their own. Therein lies Johnson's calling card.
The No. 8 overall pick in the 2015 draft, the 6'7" Johnson has proven he can defend four positions. He's got the strength to mix up with a LeBron James and the athleticism and quickness to match up with a Kyrie Irving.
For the most part, Johnson is assigned to the other team's top wing player. Given the composition of the Pistons' roster, Johnson serves as a complimentary piece to the team's other top wings, Reggie Bullock and Luke Kennard. Bullock and Kennard are known for their perimeter shooting but aren't considered noteworthy defenders.
New coach Dwane Casey has indicated he'd like to play Johnson at power forward at certain times, which would allow him to attack taller, slower defenders off the dribble.
Why the Pistons should avoid an extension:
If Johnson has shown any growth offensively, it's been a very gradual process. In his rookie season, he averaged 8.1 PPG while making 37.5% of his shots and 30.7% from long range in 23.1 MPG.
He experimented with a new release in his second year and regressed even from those subpar figures. Johnson's offensive woes and questions about his work ethic led to a dip in playing time, as he averaged 4.4 PPG while shooting 35.3% from the field and 29.2% on 3-point tries in 17.8 MPG.
He got back in former coach Stan Van Gundy's good graces last season but remained a work in progress offensively. Johnson averaged 8.7 PPG on 37.5% shooting whiile making just 28.6% of his threes in 27.4 MPG.
Points of comparison:
Among  recent recipients of rookie scale extensions, Michael Kidd-Gilchrist may be the best point of comparison for Johnson. In 2015, the Hornets gave Kidd-Gilchrist a four-year, $52MM deal, mainly due to his reputation as a lockdown defender.
Kidd-Gilchrist has been a fixture in the team's starting lineup during the first two years of the extension but his offensive numbers have actually gone down compared to his first three seasons in the league. He doesn't even attempt 3-point baskets, which makes it easier for defenders to load up on Charlotte's shooters.
Johnson at least provides some hope of developing into a perimeter threat. In six April games last season, he averaged 12.0 PPG and made 36% of his long-distance tries.
Cap outlook:
Due to the acquisition of Blake Griffin and some poor decisions by the previous regime, the Pistons won't have a lot of flexibility in terms of their payroll next summer.
The trio of Griffin, Andre Drummond and Reggie Jackson alone will eat up $79.6MM of their cap space. The Pistons will still be on the hook for the final years of Jon Leuer's and Langston Galloway's deals, chewing up another $16.8MM in cap room. And the stretch provision used on Josh Smith will wipe out an additional $5.33MM.
Handing Johnson a deal comparable to Kidd-Gilchrist, i.e. in the $13MM annual range, would leave the Pistons with very little wiggle room to upgrade the roster. They'd have to be convinced that Johnson could expand his game offensively while remaining a bulldog on the defensive end.
It's not far-fetched, considering Johnson exited college after his freshman season at Arizona. He's still only 22 and could thrive under the guidance of Casey.
Conclusion:
Under a different set of circumstances, the Pistons might consider locking up Johnson at the right price. He can contribute without being a major offensive factor and the Pistons probably don't need him to become a 15- or 20-point scorer.
They've got two All-Star level frontcourt talents in Griffin and Drummond, an offensively-gifted point guard (when healthy) in Jackson, and some quality 3-point shooters dotting the roster. It's still difficult to make a long-term commitment to Johnson until he becomes at least enough of an offensive threat that defenders have to pay some attention to him.
It's even more difficult for the Pistons to lavish Johnson with a multi-year deal given their salary constraints next summer. They can still extend a qualifying offer and see how the market plays out when Johnson becomes a restricted free agent.
It's unlikely Johnson will develop so dramatically that other teams will be beating down his door with lucrative offer sheets. Better to see if Johnson can make the necessary upgrades in his game before giving him long-term security.
Will Johnson get extended by October 15?
Our prediction: No.
Our estimate: RFA in 2019.
Photo courtesy of USA Today Sports Images.