SEPTEMBER 23: The Timberwolves have officially signed Towns to his new extension, the team announced today in a press release.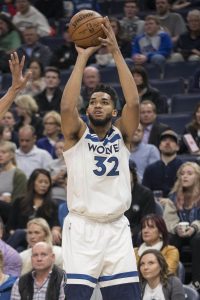 SEPTEMBER 22: Karl-Anthony Towns has decided to accept an extension from the Timberwolves, according to Adrian Wojnarowski of ESPN. The new deal could pay Towns as much as $190MM over the next five years based on current cap projections.
The latest news out of Minnesota may be further indication that Jimmy Butler is headed out of town soon. A report this week suggested that Towns, who clashed with the former Bulls star during his first year in Minnesota, was delaying a decision on an extension until Butler's fate was decided.
News first broke in July that the Wolves were discussing an extension with Towns, and they have been waiting more than two months for the fourth-year center to accept their offer. His agent, Leon Rose of CAA Sports, contacted the club tonight with news of his decision, sources told Wojnarowski.
"On June 25, 2015, I was drafted to and committed to the Minnesota Timberwolves," Towns said in a prepared statement. "On September 22, 2018, I made a recommitment to the Wolves and have the same feelings of excitement that I felt back in 2015.
"I promise to the fans, my teammates and the organization to keep the vision of the man who drafted me, Flip Saunders, alive and treat his dream of winning with respect and dignity. To the fans from Day One and the Timberwolves fans, this is for you. Thank you for believing in me."
Terms of the super-max contract enable Towns to earn 30% of the team's salary cap by making an All-NBA team or by being named MVP or Defensive Player of the Year this season. The deal does not contain a player option, according to Michael Scotto of The Athletic (Twitter link).
If Towns doesn't meet the super-max criteria, his new deal would start at 25% of the cap rather than 30%. In that scenario, the yearly cap hits for the Wolves project to be worth $27.25MM, $29.43MM, $31.61MM, $33.79MM and $35.97MM, for a total of $158.05MM. If Towns earns one of the honors noted above, the annual cap hits would increase to $32.7MM, $35.32MM, $37.93MM, $40.55MM, and $43.16MM ($189.66MM in total).
The new deal also establishes Towns as the cornerstone of the franchise for the foreseeable future. He quickly turned into one of the best young centers in the league after being drafted with the top pick in 2015. Towns hasn't missed a game in his first three seasons and posted a 21.3/12.3/2.4 line last year.
Photo courtesy of USA Today Sports Images.