SEPTEMBER 4: More than a month after reaching an agreement on a new deal for McMillan, the Pacers have officially announced in a press release that the head coach has signed his extension.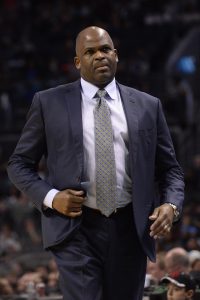 AUGUST 1: The Pacers and head coach Nate McMillan are in agreement on a deal that will extend his contract through the 2020/21 season, league sources ESPN's Adrian Wojnarowski.
McMillan, who was named Frank Vogel's replacement by the Pacers back in the 2016 offseason, signed a three-year contract at that time, so he would have been entering the final year of his deal this fall if he hadn't worked out a new agreement with the team.
Wojnarowski reported in June that the Pacers would likely discuss an extension for McMillan this offseason, with president of basketball operations Kevin Pritchard confirming last month that those talks were underway.
McMillan made the Pacers' decision to extend him an easy one. After leading the team to a 42-40 record during his first year as head coach, McMillan and the Pacers were expected to take a step back last season with star forward Paul George no longer on the roster. However, Indiana was one of the NBA's surprise teams of 2017/18, racking up 48 wins and earning the No. 5 seed in the East. The Pacers pushed LeBron James and the Cavaliers to seven games in the first round before losing Game 7.
In total, McMillan has a 90-74 (.549) record in two seasons with the Pacers. The veteran coach, who was an assistant on Vogel's staff before earning a promotion in 2016, had previous stints as the head coach of the SuperSonics and Trail Blazers. His overall record as a head coach is 568-526 (.519), placing him fifth among active head coaches in career wins, and 26th all-time.
Photo courtesy of USA Today Sports Images.