1:25pm: The Nets, Knicks, and Clippers are Butler's three preferred destinations, reports ESPN's Adrian Wojnarowski (via Twitter).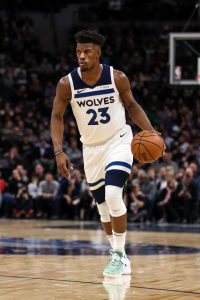 12:48pm: Timberwolves All-NBA swingman Jimmy Butler has requested a trade, league sources tell Jon Krawcznyski and Shams Charania of The Athletic. According to the duo, Butler has given Minnesota a list of one to three teams with which he'd be open to signing a long-term extension, informing the Wolves that he doesn't intend to sign a new deal with the team next summer.
Butler, who spent the first six years of his NBA career with the Bulls, was traded to the Timberwolves during the 2017 offseason and helped the club snap its 13-year postseason drought in the spring. Despite being limited to 59 games due to injuries, Butler earned All-Star and All-NBA Third Team nods in 2017/18, averaging 22.2 PPG, 5.3 RPG, 4.9 APG, and 2.0 SPG while playing strong perimeter defense.
Although Butler enjoyed a strong individual season and the Wolves took strides toward title contention, there were whispers throughout the year about tension among the club's stars. A report in July suggested that Butler was "all but fed up with the nonchalant attitude of his younger teammates," including Karl-Anthony Towns. Earlier this week, we heard that Towns may be postponing his contract extension decision until he sees what happens with Butler.
Still, Krawcyznki hears that possible issues with Towns and Andrew Wiggins have "very little, if anything," to do with Butler's trade request. It's more to do with contractual matters, Krawczynski adds (via Twitter).
Butler is technically under contract for two more years, but he'll have an opportunity to hit the open market in 2019 by turning down his player option. If the Wolves expect him to jump ship at that point – and there have been rumors that he's interested in playing alongside Kyrie Irving – then it makes sense to gauge the trade market for him before then. However, head coach and president of basketball operations Tom Thibodeau has been "resistant" to the idea of moving his star wing, tweets Krawczynski.
Butler, who informed the Wolves of his stance during a meeting on Tuesday to discuss his future, already turned down a contract extension offer from the team earlier this offseason. As we noted at the time, Minnesota is limited to offering four new years worth just over $100MM at this point — the club could go much higher with its offer in free agency, when Butler would be eligible for a five-year contract worth up to a projected $190MM. If he signs with a new club, Butler would be limited to approximately $141MM over five years.
If Butler is traded, his Bird rights would be traded along with him, so his new team would gain the ability to offer a five-year contract worth an estimated $190MM. Those may be the "contractual matters" Krawczynski is alluding to. It's also possible Butler would be more willing to consider an extension prior to free agency if he joins a team on his wish list. CBA restrictions would prevent him from being eligible for that four-year, $100MM+ extension for six months after being traded though.
From the Timberwolves' perspective, moving on from Butler may alleviate some long-term cap concerns, as carrying maximum contracts for Wiggins, Towns, and Butler beginning in 2019/20 might not have viable. Of course, it won't be easy for Minnesota to recoup fair value for its four-time All-Star now that his trade request has been leaked publicly.
As for the teams that may be of interest to Butler, it's safe to say that his short list probably includes at least one or two big-market clubs. Joe Vardon of Cleveland.com (Twitter link) hears from a source that Butler is likely interested in the Knicks. A report last month indicated that Butler would consider the Lakers in free agency.
However, Knicks president Steve Mills just talked about not wanting to surrender big trade packages for players that may be available in free agency, and the Lakers don't really have the salaries necessary to make a Butler deal work at this point. The Lakers – and many more teams around the NBA – will be in a better position to make deals when various trade restrictions lift after December 15.
Photo courtesy of USA Today Sports Images.