7:58 pm: Jon Krawczynski of The Athletic has reported that Timberwolves owner Glen Taylor made a rare visit to a team practice and actually met with Butler to discuss the current situation. Krawczynski reveals that Taylor and Butler came to an agreement during the meeting, with Butler agreeing to play in games at his usual competitiveness level while the team continues to work on finding a trade for the disgruntled star.
As noted below, talks between the Heat and Timberwolves over a potential Butler deal are reportedly dead at the moment, making it very likely that Butler will be suiting up for the Timberwolves for the foreseeable future.
1:08 pm: Timberwolves guard Jimmy Butler is expected to play in the team's season opener against the Spurs on Wednesday, according to Shams Charania of The Athletic (Twitter link). Butler practiced with the team Sunday for the first time since he erupted during a scrimmage last week.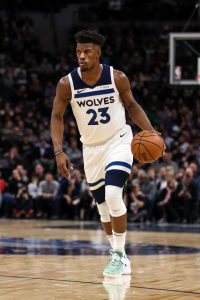 Charania also adds that the trade talks between the Heat and Timberwolves are dead for now, not ruling out the possibility of them restarting in the future. The teams were close to finalizing a deal centered around Butler and others one week ago, ESPN's Adrian Wojnarowski reported, but the deal fractured just before completion.
Butler planned to practice with the team again this past Thursday, but Minnesota canceled the session in the morning. He has no desire to forfeit guaranteed money from games, and his immediate future with the team remains unclear.
The Timberwolves' schedule after Wednesday includes a home game against Cleveland on Friday, followed by a road contest against Dallas on Saturday. Butler knows the possibility of getting booed at home exists amid the trade request that's spanned over three weeks.
"Sure. Go ahead, boo me," Butler told The Athletic's Jon Krawczynski (Twitter link). "It ain't going to change the way I play. That's going to make me smile more. So please, come on with it."
Butler's original trade request came with three preferred teams, according to an ESPN.com report: Brooklyn, New York and the Los Angeles Clippers. The Nets and Knicks have had no traction with Minnesota to this point, and the Clippers believe they can convince Butler to sign with the club in free agency next summer.
Butler reportedly adjusted his list three weeks ago and named the Heat as his new top destination, as The New York Times' Marc Stein reported. So far, the Heat have been unwilling to throw away each of their future pieces for a talent that can leave the team in nine months as a free agent.
Butler, 29, remains an accomplished two-way forward and consensus top-15 player in the NBA. His competitive spirit, fearless attitude and hard-pressed mindset intrigues teams looking for a star talent on the wing.
Photo courtesy of USA Today Sports Images.