Over the course of the 2018/19 NBA season, up until February's trade deadline, we're keeping an eye on potential trade candidates from around the NBA, monitoring their value and exploring the likelihood that they'll be moved. Each of these looks at possible trade candidates focuses on a specific division, as we zero in on three players from that division.
No team in the NBA's Central division has played more than five games so far – the Pistons have only played three – but based on contract situations and early-season rotations, some potential trade candidates are already emerging. Let's take a look at a few of them…
Kyle Korver, G/F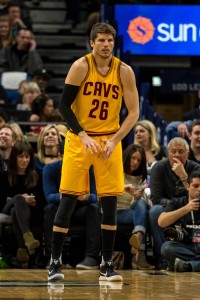 Cleveland Cavaliers
$7.56MM cap hit; partially guaranteed salary in 2019/20
A fixture in the Cavaliers' rotation over the last year and a half alongside LeBron James, Korver has seen inconsistent playing time so far in 2018/19. His minutes count in his first four games: 14, 5, 0, and 19.
Korver has said he doesn't mind sporadic minutes, and it's too early in the season for the Cavs to go into tank mode and start considering a full-fledged fire sale. Still, there are a number of reasons to expect the 37-year-old to become a trade candidate sooner or later if Cleveland's struggles continue.
Several playoff contenders figure to be in the market for an outside marksman, and few are more reliable than Korver, who has a .431 career 3PT%. His salary is affordable and his contract is favorable for a short-term investment — next season's $7.5MM salary is only guaranteed for $3.44MM, meaning any team acquiring him would have the option to keep him for one more year or to cut bait at a minimal cost.
Robin Lopez, C
Chicago Bulls
$14.36MM cap hit; UFA in 2019
Like the Cavaliers, the Bulls don't look like a legit postseason contender, particularly as the injuries to several key players continue to pile up. It's too early to give up on this season's playoff hopes yet, but when that happens, Lopez looks like one of the team's most obvious trade chips.
The Bulls have Wendell Carter Jr. penciled in as their center of the future, and still need to see what they can get out of Cristiano Felicio, whose pricey contract runs through 2021. For now, Lopez remains a part of the rotation, but his minutes are down (17.7 MPG so far, compared to 26.4 last season) and they may decrease further if and when the club goes all-in on developing its young players.
Lopez is no bargain at $14.36MM, but he's on an expiring contract and won't affect a team's cap flexibility for the summer of 2019. He's also still just 30 years old and has value as a reliable screen setter and defensive presence.
Matthew Dellavedova, G
Milwaukee Bucks
$9.61MM cap hit; guaranteed salary in 2019/20
If the 4-0 Bucks can build on their hot start, they'll likely be in the market for upgrades by the time February's trade deadline rolls around. Dellavedova and John Henson ($11.33MM cap hit) represent the club's best salary-matching pieces, and Dellavedova's absence from the rotation makes him the more expendable player of the two.
With one more guaranteed season left on his contract, the veteran guard is a negative asset at this point. But if Milwaukee is willing to attach a draft pick or a young player to Dellavedova's contract, he could be a part of an offer for a veteran who might better fit the club's lineup.
Photo courtesy of USA Today Sports Images.