With the 2018/19 NBA regular season just eight days away, the Suns are shaking up their front office. Phoenix has fired general manager Ryan McDonough, according to Shams Charania of The Athletic (Twitter link). Vice president of basketball operations James Jones and assistant general manager Trevor Bukstein will take over GM duties on an interim basis, Charania adds (via Twitter).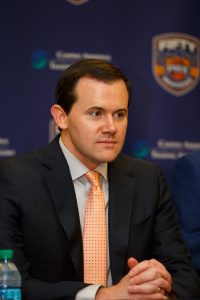 "After much thought and a long evaluation of basketball operations, I have decided to relieve Ryan McDonough of his duties as general manager of the Phoenix Suns," team owner Robert Sarver said today in a press release confirming the move. "Our focus in the short term is to prepare for the upcoming NBA season and to continue pursuing opportunities to strengthen our roster. Over the course of the season, we will explore both internal and external options as we look to restructure our basketball front office leadership."
The timing of the move is unusual, as teams generally make major front office changes in the spring, giving the new management group the opportunity to tackle the draft and free agency. McDonough also signed an extension last summer and had two years left on his contract, as John Gambadoro of Arizona Sports 98.7 observes (via Twitter). The fact that the Suns are moving on from McDonough now suggests that ownership hasn't necessarily been thrilled with the club's offseason moves.
The Suns landed the No. 1 pick in the 2018 draft and secured a potential franchise player in Deandre Ayton, then signed veteran forward Trevor Ariza in free agency. Phoenix also locked up Devin Booker to a long-term extension. However, the club's efforts to acquire a starting-caliber point guard have thus far been unsuccessful, a potential source of frustration for ownership. As ESPN's Adrian Wojnarowski notes (via Twitter), many potential trade partners that the Suns have spoken to have held out for an unprotected first-round pick in any deal.
McDonough's tenure with the Suns began in May of 2013. The club won 48 games in his first season as general manager, but finished below .500 for the next four years, failing to record more than 24 wins in any of the last three seasons.
McDonough's roster moves during his time in Phoenix have been hit and miss, with solid draft picks like Booker and T.J. Warren balanced out by less impactful top-10 selections like Alex Len, Dragan Bender, and Marquese Chriss.
The Suns have also rotated through three head coaches in the five years since McDonough was hired, going from Jeff Hornacek to Earl Watson to Igor Kokoskov. Additionally, it's worth noting that the team's hole at point guard might be particularly vexing for ownership since it wasn't long ago that Goran Dragic, Eric Bledsoe, and Isaiah Thomas were all on the roster.
According to Wojnarowski (via Twitter), Sarver – who has recently become more involved in the Suns' day-to-day operations – is fond of Jones, who will become a candidate for the organization's permanent GM job. Wojnarowski also suggests that Kevin McHale is a long-term candidate to watch, while Marc J. Spears of The Undefeated wouldn't be surprised to see former Cavs GM David Griffin receive consideration for the Phoenix position (Twitter links).
Photo courtesy of USA Today Sports Images.