Every week, Hoops Rumors takes a closer look at players who will be free agents or could become free agents next offseason. We examine if their stock is rising or falling due to performance and other factors. This week, we turn our attention to the Northwest Division:
Isaiah Thomas, Nuggets, 29, PG (Down) – Signed to a one-year, $2MM deal in 2018
Thomas hoped to revive his career as a high-scoring sixth man for one of the league's up-and-coming teams. Instead, Thomas has yet to make his Denver debut. Thomas continues to struggle with hip issues and there's no timetable for his return. Just a couple of years removed from being a candidate for the league's Most Valuable Player award, Thomas has a cloudy future. It's more likely he'll be forced into early retirement than ever approaching his former level of excellence and that would be a shame.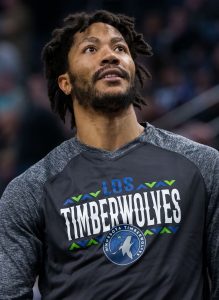 Derrick Rose, Timberwolves, 30, PG (Up) – Signed to a one-year, $2.39MM deal in 2018
Seriously, did anyone think Rose would have another 25-point outing in his career, let alone twice as many points? Rose's 50-point explosion against Utah on Halloween was a shocker and he's remained a steady offensive threat since that blast from the past. He's averaging 22.0 PPG and 4.0 APG over his last eight games. Once thought to be on the verge of retirement, Rose clearly still has a lot left in the tank. He'll be getting a substantial raise in the open market if he keeps this up.
Abdel Nader, Thunder, 25, SF (Down) – Signed to a three-year, $4.16MM deal in 2017
The Celtics were about to cut Nader loose this summer until the Thunder came calling with a trade offer. The 2016 second-round pick has a non-guaranteed contract and he hasn't done anything to convince Oklahoma City to keep him around after this season. Nader hasn't been able to break into the wing rotation, playing a total of just 15 minutes. Nader will probably be looking for another fresh start in July.
Seth Curry, Trail Blazers, 28, PG (Down) — Signed to a one-year, $2.795MM deal in 2018
Curry left Dallas with the hope of reestablishing his value after missing all of last season with stress fracture in his lower left leg. It hasn't started off the way Curry envisioned. He wasn't effective in a backup role (6.09 PER) before missing the last four games with a knee injury. There's still hope for Curry to turn things around and fill the role that Shabazz Napier played last season. The way it's going now, he'll be scrounging for another one-year deal next summer.
Ricky Rubio, Jazz, 28, PG (Down) – Signed to a four-year, $55MM deal in 2015
The Jazz have been one of the league's most disappointing teams during the first quarter of the season. The team's starting point guard is partly to blame. Rubio, who is making nearly $15MM in his walk year, is shooting 37.3% from the field and over the last six games he's averaging four assists while making 2.5 turnovers per game. Rubio needed to adjust his game when the team drafted dynamic creator Donovan Mitchell and right now, their backcourt pairing still seems a bit awkward. It'll interesting to see if the Jazz look to move Rubio before the trade deadline to shake things up.
Photo courtesy of USA Today Sports Images.