Rondae Hollis-Jefferson's season continues to be a disaster. The fourth-year wing was expected to make a leap this year, but so far, injuries and inefficient play have defined his season, and the Nets' style of play doesn't suggest his real-life or fantasy stock is going to improve drastically anytime soon.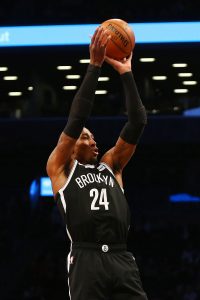 Brooklyn is one of many clubs emphasizing the long-ball — only four teams attempt a higher percentage (39.0%) of their total field goals from downtown. This style doesn't play to Hollis-Jefferson's strengths. He's shooting just 15.8% on 19 attempts from behind the arc this season (22.7% on his career) and it's fair to wonder whether he will ever be able to incorporate this facet into his game at anywhere near a league-average level.
There are some positives for the former No. 23 overall pick. The athleticism is there and his raw talent gives him the ability to overcompensate for being out of place on the defensive end. He'll have games, like his 14-point, 11-rebound effort against Utah last week, where you can see the potential that made him a first-round pick.
Back when my undergraduate days were dwindling down, I was interviewing for positions and one potential manager gave me some advice that I carry with me to this day: Potential gets you in the door; it doesn't pay your rent. Hollis-Jefferson's potential got him in the building, but examine his resume and it's not clear that he'll ever be able to produce to the level that the Nets need him to.
It's year four in the NBA for RHJ. He has had an internship in offensive moves, a defensive principles co-op, and little experience in truly meaningful NBA games. Although he established career-highs in points, rebounds, assists and shooting percentage during the 2017/18 season, it appears a bit of regression has hit him this season.
He's still out of place way too often on the defensive end. However, with Brooklyn struggling again (8-18 on the season), he should continue to see opportunities to improve in this area in addition to his offensive game as Brooklyn attempts to unlock his full potential. The Nets, like fantasy owners who drafted him, are hoping to see progress soon.
Coach Kenny Atkinson put RHJ in the starting lineup against the Sixers in late November and the results since then haven't been great. During his first 16 contests, he played 21.1 minutes per game and shot 40.0% from the field with a plus/minus of -0.7. Since being inserted into the starting five, he's seen 28.0 minutes per game, making 42.8% of his attempts, and hasn't ended a game a single start with a positive plus/minus (-6.3 over this stretch).
Joe Harris returned from injury this week and scored 19 points starting alongside Hollis-Jefferson, D'Angelo Russell, Allen Crabbe and Jarrett Allen. All four players are better fantasy options than RHJ, though he and Crabbe are rather close in value.
Neither Crabbe nor Hollis Jefferson is a must-own in re-draft leagues. Crabbe is a streaky shooter who's seen more opportunity since Caris LeVert injured his foot and his higher ceiling gives him the edge if I were picking between the two inconsistent players.
The environment in Brooklyn isn't as fantasy-friendly as it has been in year's past. The Nets are playing a slower brand of basketball this season, ranking 24th in pace of play after finishing 6th last season and first the season prior. Fewer possessions mean fewer opportunities to go around.
The rotation appears fluid. Spencer Dinwiddie should be owned in all leagues, though he could become a candidate to be traded. DeMarre Carroll looms as a potential contributor but he's not an inspiring fantasy option and the team could look to give its younger players more run as the season progresses.
One candidate for an increased role is Rodions Kurucs. The 2018 second-round pick isn't close to warranting a fantasy roster spot right now, but he's someone to keep an eye on. He saw 28 minutes over his last two appearances, scoring a total of 20 points on 17 shots. He's 6-of-20 on three-pointers this year, which isn't great, but it's a huge upgrade over Hollis-Jefferson. Should the Nets decide to phase away from the RHJ project, Kurucs could be the guy to benefit.
It's likely the Nets continue to give Hollis-Jefferson a chance this season to prove he belongs in their long-term plans. He and the franchise couldn't come to an agreement on an extension before this year's deadline and they'll want to get as much data on him before he hits restricted free agency next summer.
Brooklyn hopes that RHJ will produce more as the year goes along, as do fantasy owners. However, as we pass the quarter mark of the season, it appears as if the Nets will be looking at other options—ones that better fit the style they want to play—at the end of the season. Fantasy basketball owners shouldn't wait that long to scour for Hollis-Jefferson alternatives.
Fantasy questions? Take to the comment section below or tweet me at @CW_Crouse.
Missed an earlier edition of Fantasy Hoops? Check out the entire series here.
Photo courtesy of USA Today Sports Images.