Every week, Hoops Rumors takes a closer look at players who will be free agents or could become free agents next offseason. We examine if their stock is rising or falling due to performance and other factors. This week, we turn our attention to the Atlantic Division: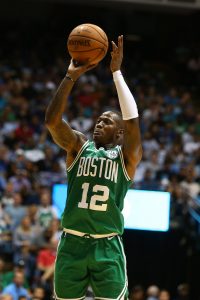 Terry Rozier, Celtics, 24, PG (Down) – Signed to a four-year, $8.8MM deal in 2015
Rozier showed he could be effective starter filling in for Kyrie Irving during the playoffs. With Irving back in the lineup, Rozier has been forced into a second-unit role again. He has expressed a desire to be a starter in the future and that's not going to happen if Irving re-signs with Boston. Rozier's stats aren't that far off from last regular season but it's been difficult for the restricted free agent, who is currently ranked No. 18 in our Free Agent Power Rankings, to enhance his value while playing 22 MPG.
DeMarre Carroll, Nets, 32, SF (Down) – Signed to a four-year, $58MM deal in 2015
Carroll's offensive numbers have been unsightly since he returned from an injury in early November. He's shooting 34.4% from the field and 30.8% from long range. He's also been a defensive liability, according to Basketball Reference, which gives him a minus 1.6 Defensive Box Plus/Minus rating. Carroll cashed in at an opportune time the last time he was a free agent. He's going to find the offers much more modest next summer, given his age and declining production.
Emmanuel Mudiay, Knicks, 22, PG (Down) – Signed to a four-year, $14MM deal in 2015
The way first-year head coach David Fizdale has been tinkering with his lineup and rotation, it's hard for anyone on the roster to feel comfortable. The point guard situation has remained a muddle, with Mudiay, Frank Ntilikina and Trey Burke taking turns as the main guy and sitting in the doghouse. Mudiay had a 28-point performance against Milwaukee earlier this month but the Knicks have been outscored by 46 points over the last three games with the restricted free agent on the court. His grasp on a starting spot seems tenuous at best.
Mike Muscala, Sixers, 27, PF (Up) — Signed to a two-year, $10MM deal in 2017
Muscala has reinvented himself as a stretch four and he's become a valued member of Philadelphia's rotation. He's averaging 10.7 PPG, 6.7 RPG and 2.2 APG over the past six games. He had an 18-point outing to help the Sixers erase a 15-point deficit in Detroit last week. If Muscala can keep this up for one of the Eastern Conference's top teams, he'll be in line for a nice payday next summer and might even find a suitor that views him as a starter.
Danny Green, Raptors, 31, SG (Up)– Signed to a four-year, $40MM deal in 2015
Kawhi Leonard isn't the only former Spur making a major impact north of the border. Green seems rejuvenated as well. His shooting numbers declined during his last three seasons in San Antonio but with Toronto he's posting his best averages since the 2012/13 season. He's shooting 44.2% overall and 42.1% from deep. His defensive metrics have remained well above average. Green should be able to score one more multi-year contract, whether he re-signs with Toronto and gets a starting job elsewhere.
Photo courtesy of USA Today Sports Images.