Every week, Hoops Rumors takes a closer look at players who will be free agents or could become free agents next offseason. We examine if their stock is rising or falling due to performance and other factors. This week, we turn our attention to the Pacific Division:
Jonas Jerebko, Warriors, PF, 31 (Up) – Signed to a one-year, $2.18MM deal in 2018
Jerebko has bounced around the league the last few seasons but he always stays within his role and provides solid contributions wherever he lands. He's averaging 7.2 PPG while shooting a career-high 48.9% from the field in 19.8 MPG. He's also helped on the boards (5.5 RPG). An above-average 3-point shooter, Jerebko shouldn't have too much trouble finding another contender to sign him as their backup stretch four next summer. It could be Golden State if he's willing to settle for the veteran's minimum again.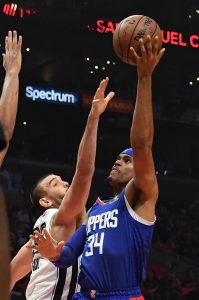 Tobias Harris, Clippers, 26, PF (Up) – Signed to a four-year, $64MM deal in 2015
When news leaked over the summer that Harris turned down an $80MM extension offer from the Clippers, many people wondered what Harris was thinking. He was willing to bet on himself that he could do even better as an unrestricted free agent and thus far, the odds have increased in his favor. Harris is posting career highs in several major categories, including scoring (21.0 PPG), shooting (50.8%) and rebounding (8.5 RPG) for one of the league's surprise teams. When the superstars come off the board, Harris will be next in line for a big payday.
Kentavious Caldwell-Pope, Lakers, 25, SG (Down) – Signed to a one-year, $12MM deal in 2018
The previous Pistons regime declined to give Caldwell-Pope a multi-year extension. He wound up signing a pair of generous one-year contracts with the Lakers but he's been reduced to backup duty. Most of the shots he's taken have come from beyond the arc and he's not particularly good at it (33% this season, 34.4% for his career). Caldwell-Pope doesn't appear to have a future with the Lakers beyond this season and will have to take a pay cut to find work elsewhere.
Dragan Bender, Suns, 21, PF (Down) — Signed to a three-year, $13.4MM deal in 2016
When the Suns drafted Bender No. 4 overall in 2016, then traded with Sacramento for No. 8 selection Marquese Chriss, they seemingly resolved their power forward spot for years to come. Instead, they wound up with two of the biggest busts in that draft. Chriss was traded away to Houston during training camp while Bender is barely seeing the court in Phoenix. He's appeared in eight games while averaging just 5.5 MPG. Bender needs a change of scenery but he'll have to settle for a modest deal next year until he proves he's a genuine NBA player.
Willie Cauley-Stein, Kings, 25, PF (Up)– Signed to a four-year, $15.35MM deal in 2015
The Kings have a lot of young bigs but Cauley-Stein has been a fixture in the lineup. He's posting career highs at 14.3 PPG and 8.2 RPG while generally playing the same amount of minutes as last season. Cauley-Stein came into the league with a reputation of being a quality defender and he's posted positive Defensive Box Plus/Minus ratings each season, according to Basketball-Reference. He'll be a restricted free agent but might be one of the few who gets a substantial offer sheet, considering Sacramento will like choose to make Marvin Bagley III their main man in the middle.
Photo courtesy of USA Today Sports Images.