Every week, Hoops Rumors takes a closer look at players who will be free agents or could become free agents next offseason. We examine if their stock is rising or falling due to performance and other factors. This week, we turn our attention to the Southeast Division:
Jeremy Lin, Hawks, 30, PG (Up) – Signed to a three-year, $38.3MM deal in 2016
Lin suffered a season-ending knee injury last October with Brooklyn. He's bounced back impressively as the backup point guard in Atlanta. He's averaging 10.9 PPG and 3.2 APG in 18.5 MPG while posting an above-average PER. For a contender looking to fill the same spot, Lin would be a viable option prior to the trade deadline. He'll have to accept a lower salary with his next contract but he shouldn't have too much trouble finding work in July.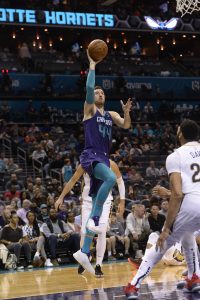 Frank Kaminsky, Hornets, 25, PF (Down) – Signed to a four-year, $11.8MM deal in 2015
Far removed from leading Wisconsin to the 2015 national championship, Kaminsky continues to disappoint as a pro. Under former coach Steve Clifford, Kaminsky was a steady presence in the rotation. First-year James Borrego has buried Kaminsky so deep on the bench that the stretch four hasn't played the last three games. Kaminsky could be a restricted free agent if the Hornets extend a $4.9MM qualifying option but that's not happening. He'll be looking to hit the reset button in July.
Rodney McGruder, Heat, 27, SG (Down) – Signed to a three-year, $3.4MM deal in 2016
McGruder has started regularly for the Heat this season but that might not last much longer. He's averaged 5.2 points in his last five outings while shooting 27.6 percent from the field. His PER is well below average. In McGruder's favor is his team-friendly contract. He'll be a restricted free agent if the Heat extend a $1.93MM qualifying offer. Whether he receives it will likely depend on how much cap space Pat Riley wants to open up.
Nikola Vucevic, Magic, 28, C (Up) – Signed to a four-year, $53MM deal in 2015
Orlando has some young, athletic bigs but Vucevic is so productive, he's maintained his minutes under new coach Steve Clifford. The veteran big man is averaging a career-high 20.8 PPG, 11.8 RPG and 3.6 APG. Like many 7-footers his age, Vucevic came into the league as mainly a low post player but has extended his range beyond the arc. He's made 39% of his attempts this season. Currently ranked No. 10 in our Free Agent Power Rankings, Vucevic should be a nice consolation prize for a team with significant cap space that strikes out pursuing the biggest names on the market.
Trevor Ariza, Wizards, 33, SF (Up) – Signed to a one-year, $15MM deal in 2018
Phoenix quickly moved Ariza to a team fighting for a playoff spot after giving him a nice one-year payday over the summer. The Wizards are just 1-4 since acquiring Ariza but what's more significant is how many teams inquired about him before the trade. He reportedly drew interest from at least eight clubs. His 3-and-D skills remain in high demand and he should be able to land at least one more big-money contract before he retires.
Photo courtesy of USA Today Sports Images.