1:26pm: The Knicks' new agreement with Trier is now official as well, the club confirmed in a press release. We went into more detail on Trier's deal earlier today.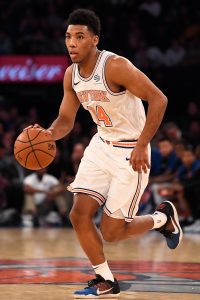 9:52am: The Knicks have officially waived Baker, the team announced in a press release.
8:55am: The Knicks and two-way player Allonzo Trier have reached an agreement on a new two-year contract that will give Trier a spot on the team's 15-man roster, reports Shams Charania of The Athletic (Twitter link). To create an opening on their roster, New York is expected to waive veteran guard Ron Baker, Charania adds.
A promotion to the 15-man squad had long been expected for Trier, who signed his two-way deal with the Knicks in early July after going undrafted out of Arizona. In 27 games (23.3 MPG), the rookie guard has averaged 11.3 PPG, 3.1 RPG, and 1.9 APG with an impressive .470/.391/.816 shooting line. With his 45-day NBA limit fast approaching, Trier would have been relegated to the G League for the rest of the season if he had remained on his two-way contract.
The Knicks could have unilaterally converted Trier's two-way deal into a standard NBA contract, but doing so would have made him a restricted free agent in 2019. Instead, New York will use its bi-annual exception to lock up the 22-year-old through the 2019/20 season, according to Charania (Twitter link).
[RELATED: How Teams Are Using 2018/19 Bi-Annual Exceptions]
The Knicks can offer a starting salary worth up to $3.382MM using the bi-annual exception, and it sounds like they did just that. Ian Begley of ESPN.com reports (via Twitter) that Trier will receive $7MM on his two-year contract, with a team option on the second season. Technically, a two-year BAE deal this year can have a maximum value of $6.93MM, so it appears that'll be the exact amount of Trier's new pact.
New York now won't have its bi-annual exception available during the 2019 offseason, since it can only be used once in a two-year stretch. That shouldn't be a big deal though, since the Knicks would lose it next summer anyway if they use cap room. That appears to be the plan, with Trier's new salary for '19/20 potentially cutting into that room a little.
Meanwhile, it looks like this will be the end of Baker's time in New York. The former Wichita State standout joined the club back in 2016 and impressed the old regime enough in his rookie season to earn a two-year contract worth $8.87MM in 2017. That deal came as a shock at the time and doesn't look any better in hindsight, as Baker has appeared in just 40 games for the Knicks since re-signing, averaging 2.1 PPG and 1.5 APG on .320/.286/.781 shooting in 12.3 minutes per contest.
Baker's $4.54MM salary for 2018/19 is fully guaranteed, so it will remain on the Knicks' cap. The team won't have to carry any dead money in future seasons for the third-year guard.
New York will also create an open two-way contract slot as a result of Trier making the jump to the 15-man roster. Two-way players can be signed up until January 15, so there's no rush to fill that opening immediately.
Photo courtesy of USA Today Sports Images.