7:44pm: McCaw has officially signed the offer sheet, according to a team press release.
10:44am: The Cavaliers' offer sheet for McCaw is non-guaranteed, tweets Wojnarowski. Players who aren't waived by January 7 will have their 2018/19 salaries fully guaranteed, so no matter which team he ends up with, McCaw will either have his first-year salary locked in at that point or will be waived, putting him on track for unrestricted free agency.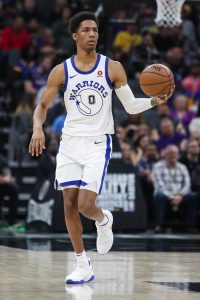 10:26am: After remaining on the free agent market for nearly six months, shooting guard Patrick McCaw is poised to sign an offer sheet with the Cavaliers, reports ESPN's Adrian Wojnarowski (via Twitter). It will be a two-year deal worth $6MM, according to Shams Charania of The Athletic (Twitter link).
Because McCaw is a restricted free agent, the Warriors will have the opportunity to match Cleveland's offer. A report last week indicated that they were still prepared to match any offer sheet within reason, but this offer figures to give them pause, as McCaw has exhibited a desire to move on from Golden State, tweets Anthony Slater of The Athletic. The Dubs will have two days to make their decision once McCaw makes it official with the Cavs.
McCaw, who has been 2018's last unsigned restricted free agent for several months, had a promising rookie season for Golden State in 2016/17, but took a step back last season. In 57 games (16.9 MPG), the former UNLV standout averaged 4.0 PPG on .409/.238/.765 shooting.
Despite his struggles in 2017/18, the Warriors issued McCaw a qualifying offer, then reportedly proposed a two-year, $5.2MM contract, with a non-guaranteed second year. Unsatisfied with that offer, McCaw has held out for nearly the entire first half of the regular season as he sought a deal with another team. Now, the Cavaliers have stepped up to become that team, with their offer sheet topping the money Golden State had put on the table.
The Cavs currently have the NBA's worst record (8-27) and are in the process of stockpiling young talent after carrying a veteran-heavy roster in recent years. If the Warriors decline to match their offer for McCaw, they'll be able to add him to a group of young players that includes Collin Sexton, Cedi Osman, Larry Nance, and Ante Zizic.
Because their offer sheet exceeds the minimum salary, the Cavs will have to dip into either the mid-level exception ($8.64MM) or bi-annual exception ($3.34MM). Both exceptions are fully available and would fit McCaw's offer sheet. The deal would also leave Cleveland a little breathing room below the luxury tax threshold, since the club is currently about $3.93MM away from being a taxpayer, per ESPN's Bobby Marks (Twitter link).
The Cavs currently have an open spot on their 15-man roster and won't have to make a corresponding move if they land McCaw. The Warriors also have an opening on their roster, but may prefer to keep that spot available for increased flexibility. Matching McCaw's offer sheet would also increase Golden State's projected tax bill by more than $10MM, as Marks tweets.
Photo courtesy of USA Today Sports Images.