The Warriors have opted not to match the Cavaliers' offer sheet for Patrick McCaw, ESPN's Adrian Wojnarowski confirms (via Twitter). Golden State had until the end of the day on Sunday to formally make a decision on McCaw, who inked a two-year, $6MM deal with Cleveland on Friday.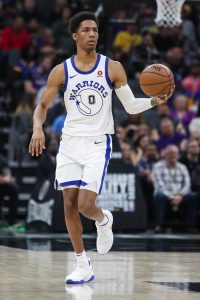 Reports surfaced over the weekend suggesting that the Warriors were leaning against matching McCaw's offer sheet, since they were unsure how he'd fit back into the locker room after a lengthy holdout. The club also likes the idea of keeping its 15th roster spot open to retain flexibility going forward. Plus, matching McCaw's offer sheet and keeping him for the season would have increased the Dubs' projected tax bill by over $11MM.
McCaw, who has been 2018's only unsigned restricted free agent for the past few months, had a promising rookie season for Golden State in 2016/17, but took a step backward last season. In 57 games (16.9 MPG), the former UNLV standout averaged 4.0 PPG on .409/.238/.765 shooting.
Despite his struggles in 2017/18, the Warriors issued McCaw a qualifying offer, then reportedly proposed a two-year, $5.2MM contract, with a non-guaranteed second year. Unsatisfied with that offer, McCaw held out for nearly the entire first half of the regular season as he sought a deal with another team. The Cavaliers stepped up and became that team this week.
Cleveland topped Golden State's offer by signing McCaw to a two-year, $6MM offer sheet. While the Cavs' deal is fully non-guaranteed, McCaw only has to remain under contract beyond January 7 to lock in his 2018/19 salary. If he's waived on or before that date, his salary won't become guaranteed, but he'll be on track to become an unrestricted free agent, so it's a win-win scenario for the 23-year-old.
The Cavaliers' plan for McCaw remains unclear, but they currently have the NBA's worst record (8-29) and are in the process of stockpiling young talent after carrying a veteran-heavy roster in recent years. McCaw could end up being an intriguing addition to a group of young players that includes Collin Sexton, Cedi Osman, Larry Nance, and Ante Zizic.
Cleveland won't have to make a corresponding roster move to finalize McCaw's signing, since the club had been carrying an open spot on its 15-man roster. The Cavs' roster is now full, and the team still has a little breathing room below the luxury tax line.
Photo courtesy of USA Today Sports Images.