James Harden is unreal. Over his last 10 contests, he is averaging 40.8 points per game. Kobe Bryant (three times) and Michael Jordan (twice) are the only other players to score at least 400 points over a 10-game stretch in the last 30 years.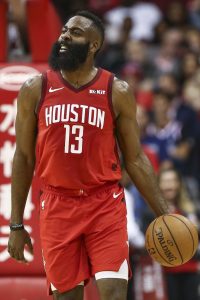 During the month of December, Harden scored 546 total points, 115 more than any other player (Paul George was second). For fantasy owners in both points and category leagues, he's closing in on the top overall spot in terms of value (I'd still take Anthony Davis for No. 1 by the slightest margin) and there aren't many players who are better to build around in daily leagues.
Harden is gunning for a second MVP and absolutely belongs in that conversation. Any talk of his unworthiness for a second trophy can only add fuel to his fire, which bodes well for employing him in the fantasy basketball world.
The Rockets are in action tonight against the Warriors in a night of great matchups. The Nuggets are visiting the Kings, while the Spurs will host Kawhi Leonard and the Raptors in the small forward's first game back in San Antonio since being traded.
Let's take a look at some more stats and notes surrounding these matchups, along with a few trends from around the league:
Fantasy questions? Take to the comment section below or tweet me at @CW_Crouse.
Missed an earlier edition of Fantasy Hoops? Check out the entire series here.
Photo courtesy of USA Today Sports Images.