Over the course of the 2018/19 NBA season, up until February's trade deadline, we're keeping an eye on potential trade candidates from around the NBA, monitoring their value and exploring the likelihood that they'll be moved. Each of these looks at possible trade candidates focuses on a specific division, as we zero in on three players from that division.
The Atlantic was viewed as one of the NBA's most top-heavy divisions entering the season, with experts and fans banking on the Celtics, Raptors, and Sixers to be the top three teams in the East. Those teams have – for the most part – delivered on expectations (they're all on pace for 50+ wins), and now a fourth Atlantic club has unexpectedly entered the playoff picture — the 21-22 Nets currently hold the No. 6 seed. As a result, the division could feature four buyers at the trade deadline next month.
Here's our latest look at a few possible trade candidates from the Atlantic…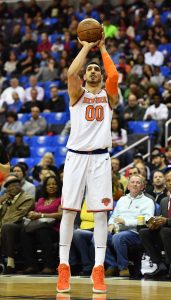 Enes Kanter, C
New York Knicks
$18.62MM cap hit; unrestricted free agent in 2019

As talented as Kanter is as an inside scorer and rebounder, he doesn't have the versatility necessary to excel as a primary frontcourt option for a contender. Modern NBA big men need to make outside shots and/or protect the rim to make themselves indispensable to teams, and Kanter does neither. He's also earning more than $18MM.
Still, Kanter's offensive and rebounding talents have value, and the Knicks likely won't be asking for much as they seek out a potential trade. New York figures to prioritize player development over winning games during the second half, and Kanter has made it clear he's not on board with that approach, so the club may be best served to end the relationship sooner rather than later, even if the return is minimal.
The Knicks won't want to take back any multiyear money for Kanter's expiring contract, given their 2019 free agency aspirations, which will limit their options. A trade that involves another sizable expiring contract or two would be ideal.
The team has reportedly discussed the possibility of a Kanter/Zach Randolph swap with the Kings, but Sacramento is reluctant to move forward on such a trade without dumping at least one more expiring deal. In that scenario, the Kings would probably have to attach an asset like a draft pick or young prospect to entice the Knicks.
Kenneth Faried, F/C
Brooklyn Nets
$13.76MM cap hit; UFA in 2019

Faried has a pricey expiring contract and has been out of the Nets' rotation for most of the season, which seemingly makes him a prime buyout candidate, rather than a trade candidate. Still, if Brooklyn moves on from Faried, the club will explore the trade market before trying to negotiate a buyout (or simply waiving him).
With injuries plaguing the Nets' roster, Faried got a chance to play 29 minutes in the team's loss to Boston on Monday. He proved he's still capable of crashing the boards, racking up a team-high 12 rebounds, including five on the offensive end. He spent some time as Brooklyn's primary big man and alongside fellow bigs like Jarrett Allen or Ed Davis. Most intriguingly, he attempted four three-point shots, making one. By comparison, Faried had made 2-of-20 three-pointers in 441 career games entering this season.
If Faried can start knocking down outside shots with regularity, it could change his career trajectory — just ask former Net Brook Lopez. But he probably hasn't shown enough yet to be a worthwhile gamble for any potential Brooklyn trade partners, unless it's in a swap for unwanted expiring contracts. Faried remains a more likely buyout candidate than trade chip for now.
Norman Powell, G/F
Toronto Raptors
$9.37MM cap hit; three years, $32.6MM left on deal after this season

After signing a four-year contract extension during the fall of 2017, Powell turned in a dismal 2017/18 performance, averaging just 5.5 PPG with a .401 FG% and .285 3PT% (all career worsts). He has enjoyed a modest bounce-back season so far in 2018/19, the first year of his extension, posting 6.9 PPG with a .467 FG% and .333 3PT% in 21 games.
Still, at $10MM+ per year over four seasons, Powell is overpaid for his current role and production in Toronto. The Raptors are in the luxury tax this season and will remain there if they're able to convince Kawhi Leonard to re-sign, so moving Powell's contract would provide some long-term cap relief. It's also a good size for salary-matching if the Raptors seek out a trade for a veteran play-maker or sharpshooter who could contribute more in the short term.
At age 25, Powell still has room to get better, and could develop into a reliable three-and-D wing with some play-making ability. But he hasn't shown enough yet to make his long-term deal a positive asset. If Toronto wants to get a player of value back in return for him, the team would likely have to throw in a future draft pick or two as well.
Previously:
Photo courtesy of USA Today Sports Images.