Over the course of the 2018/19 NBA season, up until February's trade deadline, we're keeping an eye on potential trade candidates from around the NBA, monitoring their value and exploring the likelihood that they'll be moved. Each of these looks at possible trade candidates focuses on a specific division, as we zero in on three players from that division.
Since we last examined the Atlantic division, two of the division's backup point guards have made headlines — one is reportedly unhappy with his role, while another is said to prefer a change of scenery. Both players (or their camps) have publicly denied those reports, but that likely won't quiet trade speculation.
Here's our latest look at a few possible trade candidates from the Atlantic…
Terry Rozier, G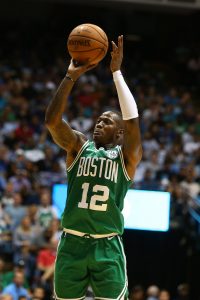 Boston Celtics
$3.05MM cap hit; restricted free agent in 2019

Rozier and the Celtics continue to say the right things publicly, but speculation persists that the fourth-year point guard is unhappy with his role in Boston, as a report suggested earlier this month.
Rozier, who played a huge role in the postseason for the Celtics last spring, has seen his minutes per game dip to 22.7 this season with Kyrie Irving healthy. If Boston were battling for first place in the conference, that decreased role might be easier to swallow, but the Celtics' early-season struggles have likely only exacerbated any frustrations Rozier has.
Despite their 9-9 start, the Celtics still have title aspirations, so an in-season trade involving a key contributor like Rozier seems unlikely unless they can get immediate help in return. Still, this is a situation worth watching closely. With Rozier's restricted free agency looming and no guarantee of a long-term investment from the Celtics, the trade deadline could represent Boston's best chance to get something of value for the young guard.
Markelle Fultz, G
Philadelphia 76ers
$8.34MM cap hit; guaranteed $9.75MM salary in 2019/20; $12.29MM team option for 2020/21

Fultz's agent Raymond Brothers denied a report suggesting that his client wants to be traded out of Philadelphia, but it wouldn't exactly be shocking if the former No. 1 overall pick prefers a fresh start elsewhere. His first 17 months with the Sixers have been disastrous, and it's not clear where he fits into a long-term core that will likely include Ben Simmons, Jimmy Butler, and Joel Embiid.
If you're the Sixers, you don't want to sell low on a player like Fultz, who is still just 20 years old and was an extremely highly regarded prospect just a year and a half ago. But the team applied that same thinking to Jahlil Okafor and Nerlens Noel, and ended up practically giving those players away for nothing in trades as their stocks dipped even further. If Fultz can get healthy, maybe now is the time to move him, when other teams still believe in his upside.
If Philadelphia does consider dealing Fultz, he'd give the team a mid-level salary-matching chip to shop in trade talks, which could be important. Currently, the only non-core pieces on the roster with cap hits exceeding $2.7MM are Wilson Chandler ($12.8MM), J.J. Redick ($12.25MM), and Mike Muscala ($5MM) — those three are important rotation players that the Sixers would presumably prefer to keep.
It's also worth noting that clearing Fultz's $9.75MM guarantee for 2019/20 from their books could put the Sixers in a prime position to go after another top free agent next summer, even after accounting for Butler's cap hold.
DeMarre Carroll, F
Brooklyn Nets
$15.4MM cap hit; unrestricted free agent in 2019

During the summer of 2017, when the Raptors needed to cut costs to re-sign Kyle Lowry and Serge Ibaka, the Nets received a pair of draft picks from Toronto and dumped Justin Hamilton's unwanted expiring contract as incentive for taking on Carroll. The veteran forward responded with a nice bounce-back season in 2017/18, averaging a career-best 13.5 PPG on .414/.371/.764 shooting.
Carroll's solid showing last season rebuilt his trade value and even made him a positive asset heading into his contract year, but health problems – which marred his time in Toronto – have slowed him again this season. Limited to eight games so far due to an ankle injury, the 32-year-old has shot just .309/.286/.885.
Unless Carroll can rebound again in a big way, finding a trade partner may be tricky. The Nets would want an asset in return for the veteran, and wouldn't want to compromise their projected cap space for 2019. That may be too much to ask, but if Carroll plays well leading up to the deadline and there's a team out there in desperate need of a three-and-D wing, a deal is a possibility.
Previously:
Photo courtesy of USA Today Sports Images.