Over the course of the 2018/19 NBA season, up until February's trade deadline, we're keeping an eye on potential trade candidates from around the NBA, monitoring their value and exploring the likelihood that they'll be moved. Each of these looks at possible trade candidates focuses on a specific division, as we zero in on three players from that division.
Heading into the 2018/19 season, the Atlantic was viewed as a two-tiered division, with the contenders (the Celtics, Raptors, and Sixers) in a different class than the probable lottery teams (the Nets and Knicks). Still, while the Nets and Knicks still look like the eventual sellers in the division, the contenders may also have some players who emerge as trade candidates for potential deadline deals.
Here's our early-season look at a few possible trade candidates from the Atlantic…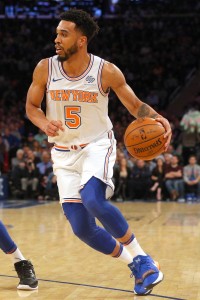 Courtney Lee, G/F
New York Knicks
$12.25MM cap hit; guaranteed $12.76MM salary in 2019/20
Given the Knicks' status as a rebuilding team and their desire to clear more cap room for 2019, Lee represents one of the most obvious trade candidates in the league. His contract isn't unwieldy, he's coming off a strong year (12.0 PPG on .454/.406/.919 shooting), and he's a solid locker-room presence.
The only problem? He's not healthy. Lee has yet to appear in a game this season due to neck issues, and the Knicks have been unable to pinpoint what exactly is causing the spasms in the swingman's neck.
With no mandate to win this season and the trade deadline still more than three months away, the Knicks can afford to be patient with Lee and wait for him to get fully healthy. His trade market is unlikely to heat up until he gets back on the court and shows that he's 100%.
Furkan Korkmaz, G
Philadelphia 76ers
$1.74MM cap hit; $2.03MM team option for 2019/20

Even before Korkmaz made comments this week about just wanting a chance to play, he looked like a potential trade candidate for the 76ers. Three or four years ago, Korkmaz probably would have been getting 25 minutes per night on the Process Sixers, but there's no room for him in the team's current rotation and it's not clear if that will change anytime soon.
It will be interesting to see whether Philadelphia decides to pick up Korkmaz's 2019/20 option today. The cost is so modest that it seems like a no-brainer, but the Sixers will be looking to maximize their cap room next summer. If Korkmaz isn't in their plans and the 76ers aren't confident in their ability to trade him, that option may well be declined. If it's exercised, Korkmaz could be an appealing low-cost trade target for a team willing to develop him.
For instance, the Sixers and Cavaliers reportedly discussed a Kyle Korver/Jerryd Bayless swap in the offseason, but were unable to agree on draft compensation in such a deal. Now that the Cavs are focusing more on finding minutes for their young players, perhaps attaching Korkmaz and a second-round pick to Bayless' expiring contract would be enough for Philadelphia to land Korver.
If the Sixers explore trading Korkmaz, they seem more likely to try to attach him to a larger deal like that than to simply try moving him for a second-round pick, considering how many future second-rounders they've already stockpiled.
C.J. Miles, F
Toronto Raptors
$8.33MM cap hit; $8.73MM player option for 2019/20
Given the way the Raptors are playing so far this season, there's certainly no need for the 7-1 squad to shake things up just for the sake of it. But there are a couple why it might make sense to eventually gauge the market for Miles: Toronto is over the tax line and may have too many solid role players once everyone is healthy.
A high-volume three-point shooter who has made 36.0% of his career attempts from beyond the arc, Miles provides value as a player who can stretch defenses and attract attention whenever he's on the court. He's off to a slow start this season though (.231 3PT%) and the Raptors don't need his shooting as much after acquiring Kawhi Leonard and Danny Green over the summer — Miles' 14.0 minutes per game would be his lowest mark in over a decade.
If the Raptors do try to reduce their tax bill, Miles and Norman Powell ($9.37MM) would be the team's most obvious trade candidates based on the disparity between their salaries and their roles. A proven veteran like Miles, who has two years left on his contract compared to Powell's four, may be the easier player to move.
Previously:
Photo courtesy of USA Today Sports Images.