Every week, Hoops Rumors takes a closer look at players who will be free agents or could become free agents next offseason. We examine if their stock is rising or falling due to performance and other factors. This week, we turn our attention to the Northwest Division:
Tyler Lydon, Nuggets, 22, PF (Down) – Signed to a two-year, $3.45MM deal in 2017
Lydon was the 24th overall pick in 2017 and acquired from Utah in a draft-day deal. He didn't make much of an impression as a rookie, as the Nuggets declined his third-year option in October. Lydon has appeared in 21 games this season, mostly during garbage time. At the G League level, Lydon has averaged 5.3 three-point attempts and made 36.7%. He's also rebounded well (8.5 in 31.3 MPG). He'll be seeking a fresh start this summer, most likely with a rebuilding team that can offer him a greater opportunity.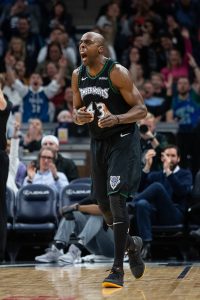 Anthony Tolliver, Timberwolves, 33, PF (Down) – Signed to a one-year, $5.75MM deal in 2018
Tolliver carved out a steady role under former Pistons coach Stan Van Gundy and delivered a career year last season. He averaged 8.9 PPG in 22.2 MPG and shot 43.6% from distance, and when he hit the free agent market, he drew interest from the Clippers, Mavericks, and Sixers as well as the Timberwolves. It hasn't gone well in Minnesota, as Tolliver completely dropped out of Tom Thibodeau's rotation in mid-November. He's seen more action under Ryan Saunders but hasn't made an impact. He'll likely have to settle for the veteran's minimum this summer to stay in the league.
Nerlens Noel, Thunder, 24, PF (Up) – Signed to a two-year, $3.74MM deal in 2018
Noel has a player option worth less than $2MM and it's likely he'll decline it and take his chances on the open market. Noel has carved out a steady bench role with the Thunder and provided a defensive presence, along with an occasional scoring outburst. His Defensive Box Plus/Minus rating, according to Basketball-Reference, is an outstanding 5.8. He posted a 22-point, 13-rebound stat line in 22 minutes in a loss to New Orleans on Thursday. Noel, the sixth overall pick in 2013, has revived his career to some extent after a lost season in Dallas.
Al-Farouq Aminu, Trail Blazers, 28, PF (Up) — Signed to a four-year, $30MM deal in 2015
The quintessential glue guy, Aminu never puts up big numbers but he does a little bit of everything for a playoff-bound team in the West. He's averaging a career-best 7.9 RPG in 29.0 MPG and his defensive versatility makes him indispensable on a team lacking in stoppers. He's also become a respectable – if not prolific – 3-point shooter (35.8%). It certainly wouldn't be surprising if Aminu re-signs with Portland but he'll have several suitors in July and shouldn't have any trouble getting a multi-year deal.
Royce O'Neale, Jazz, 25, SF (Up)– Signed to a three-year, $3.8MM deal in 2017
O'Neale, undrafted out of Baylor, has been a rotation player all season for Utah. He's often the the last offensive option on the court but he's pumped up his production this month. He averaged 13.8 PPG and 4.3 RPG in the last four games prior to the All-Star break. He's shooting an outstanding 43.9% from long range and advanced defensive metrics are also kind to him (2.2 Defensive Box Plus/Minus). O'Neale's $1.62MM salary for next season isn't fully guaranteed until next January but the Jazz might do that a lot sooner and perhaps even negotiate an extension with the swingman.
Photo courtesy of USA Today Sports Images.