6:27pm: The trade is official, according to a tweet from the Suns.
3:49pm: Bartelstein is working with the Suns to get Ellington to a playoff contender after this deal is completed, tweets Adrian Wojnarowski. While a trade is possible, the veteran sharpshooter could also be waived.

3:30pm: The Heat are also sending Wayne Ellington to Phoenix in the trade, tweets Shams Charania of The Athletic. That makes the deal more interesting, as the Heat are now in position for significant savings this season as well as next season.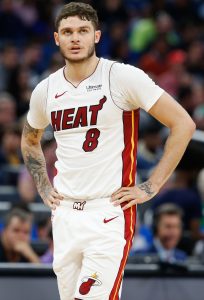 The lottery-bound Suns likely don't have much use for Ellington, but could flip him in another trade before the deadline, as long as they don't aggregate his salary with another player's.
Ellington has the ability to veto a trade, so in order to sign off on the deal, he may expect Phoenix to subsequently trade or release him. He has given his approval, agent Mark Bartelstein confirms to Barry Jackson of The Miami Herald (Twitter link).
Additionally, as cap expert Albert Nahmad observes (via Twitter), Johnson will have to waive most or all of his trade bonus to make the trade work from a salary-matching perspective if Ellington's salary is included.
2:41pm: The Heat are in agreement with the Suns on a trade that will send guard Tyler Johnson to Phoenix, reports ESPN's Adrian Wojnarowski (via Twitter). Ryan Anderson will head to Miami in the deal, tweets John Gambadoro of Arizona Sports 98.7.
Johnson, 26, has averaged 10.8 PPG, 2.8 RPG, and 2.5 APG with a shooting line of .426/.353/.693 in 44 games (25.5 MPG) for the Heat this season. Although he has been a solid role player in Miami, Johnson's salary far exceeds his on-court production.
Due to a back-loaded offer sheet from the Nets, which the Heat matched in 2016, the fifth-year guard is earning approximately $19.25MM this season, with a 2019/20 player option worth the same amount. His current-year cap charge will increase a little more when he's dealt, since his contract features a 15% trade kicker. That bonus will amount to another $1MM+ on his '18/19 cap hit, assuming he doesn't waive it. His option year will be unaffected.
Anderson, who has a $20.4MM cap hit of his own, was the only player on the Suns' roster making more than $11.75MM this season, making him the logical returning piece for Johnson.
The 30-year-old was traded from Houston to Phoenix during the offseason and has played sparingly for the Suns, averaging 3.7 PPG and 3.0 RPG in 15 games (18.5 MPG). While Anderson has been a lethal outside shooter in past seasons, he has hit just 20.6% of his three-pointers this season after entering the year with a 38.2% career rate.
Anderson has a $21.26MM cap charge for 2019/20, the final year of his four-year contract, but that figure is only partially guaranteed for about $15.64MM. That will save the Heat some money next year, and they could reduce Anderson's cap hit by $10MM+ more if they elect to release him and stretch his contract by July 10.
It's hard to imagine Anderson will have a role in a crowded Heat rotation, but the Suns presumably plan to feature Johnson. He's not a traditional point guard, but Johnson is capable of handling the ball and Phoenix – which lacks an answer at the point – will likely give him a chance to do so.
Photo courtesy of USA Today Sports Images.