9:05pm: The Raptors have officially acquired Gasol from the Grizzlies, sending Valanciunas, Wright, Miles and a 2024 second-round pick to Memphis in return, the teams announced on Thursday.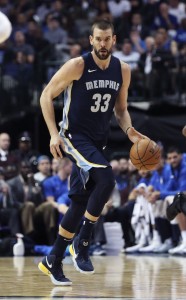 "Marc [Gasol] brings significant playoff experience to our team, which along with his savviness and leadership skills really helps position us for our ultimate post-season goal," Raptors president Masai Ujiri said. "We look forward to welcoming Marc to our city and team."
12:55pm: The Raptors and Grizzlies are finalizing a trade agreement that would send Marc Gasol to Toronto, reports ESPN's Adrian Wojnarowski (via Twitter).
Memphis is expected to receive Jonas Valanciunas, Delon Wright, C.J. Miles, and a 2024 second-round pick in exchange for Gasol, according to Wojnarowski (via Twitter).
It's the latest major development in what has turned into an arms race among the Eastern Conference's top contenders. The Sixers acquired Tobias Harris on Wednesday morning, and the Bucks reached a deal to acquire Nikola Mirotic earlier today.
The Raptors will surrender some depth in the trade by giving up three rotation players, but none of Valanciunas, Wright, and Miles were starters. In acquiring Gasol, Toronto will add more firepower to its frontcourt, acquiring a veteran center who has been linked to the club for years.
A former Defensive Player of the Year, Gasol has slowed down a step or two at age 34, but he's still a productive scorer (15.7 PPG), rebounder (8.6 RPG), and rim protector (1.2 BPG). He has also added an outside shot to his game in recent years, making 35.7% of his attempts and 1.4 threes per game over the last three seasons. It will be interesting to see how the Raptors manage his minutes in a frontcourt that also features Serge Ibaka and Pascal Siakam, both of whom are having excellent seasons.
The Grizzlies, meanwhile, will move on from a three-time All-Star who has been in Memphis since 2008. Despite Gasol's long tenure with the franchise, it appeared this week as if he was ready to move on, having cleared out his locker when it looked as if a trade to the Hornets was a possibility. That deal with Charlotte never got too close to being finalized, notes Sean Deveney of Sporting News (Twitter link).
In exchange for Gasol, Memphis gets a productive center in Valanciunas, who is set to return from a hand injury, a promising young point guard in Wright, who will be a restricted free agent season's end, and Miles, a sharpshooter who has had a down year. The Grizzlies will also acquire a future second-round pick, though it's hard to determine how much value that selection will have by 2024.
Valanciunas has a $17.62MM player option for next season, while Miles has a $8.73MM player option. Both players look like solid bets to opt in. It's not clear yet what Gasol will do with his own $25.6MM player option for 2019/20. The Raptors would have his Bird Rights if he opts out.
Gasol also has a 15% trade kicker, which will be applied to his 2018/19 cap hit, tweets Bobby Marks of ESPN.com. That bonus would increase Gasol's cap figure by close to $1.3MM if he doesn't waive it.
Marks also observes that this deal will leave the Raptors with just 11 players under contract after they also sent Malachi Richardson to Philadelphia. The club will have two weeks to get back to the league-mandated minimum of 14 players, so it could be an active month in Toronto.
Photo courtesy of USA Today Sports Images.