11:13pm: The trade is official, the Bulls announced on Twitter.
6:43pm: The Wizards will send Otto Porter to the Bulls in exchange for Bobby Portis and Jabari Parker, tweets Shams Charania of The Athletic.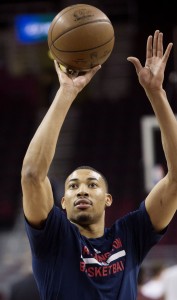 Washington will also receive a protected future second-round pick, according to Jeff Zillgitt of USA Today (Twitter link). Jake Fischer of SI.com adds (via Twitter) that the pick will be a top-36 protected second-rounder in 2023.
The deal shapes up as a cost-cutting move for Washington, which was well into luxury tax territory for this season and was in danger of heading there again next year. Porter, who makes $27.25MM next year and has a player option worth nearly $28.5MM for 2020/21, was the most logical trade piece to provide cap relief. Injuries have made John Wall virtually unmovable as his super-max deal kicks in next season, and the Wizards don't want to part with All-Star guard Bradley Beal.
Washington gets back a pair of players with no guaranteed salary beyond this season. Portis will be eligible for restricted free agency after turning down an extension offer from the Bulls in October. The fourth-year forward is having his best NBA season, averaging career highs of 14.1 points and 7.3 rebounds.
Parker signed a two-year, $40MM deal with Chicago last summer, but it carries a team option on the $20MM second year. He will get two months to try to impress the Wizards, but the team will almost certainly likely opt for the savings.
The trade drops Washington's projected tax bill for this season from $8.96MM to $3.34MM and puts it $2.3MM above the tax threshold, posts Bobby Marks on ESPN Now. Marks adds that Parker's option must be exercised by June 29, and the team must submit a $3.6MM qualifying offer to Portis by the end of June to retain the right to match any offers.
Porter, 25, will get a chance to shine in Chicago as part of the team's young core. He's averaging 12.6 PPG and 5.6 RPG in his sixth NBA season and recently moved into a sixth-man role in Washington.
The Wizards had pledged last week not to trade Porter or Beal, but Wall's heel surgery, followed by a ruptured left Achilles tendon that will sideline him for at least 12 more months, apparently changed their minds, tweets Marc Stein of The New York Times. The move should create enough financial freedom for Washington to sign Tomas Satoransky and Thomas Bryant to long-term deals this summer, adds David Aldridge of The Athletic (Twitter link).
Photo courtesy of USA Today Sports Images.