MARCH 4: The Bucks have officially signed Bledsoe to his new extension, according to NBA.com's transactions log.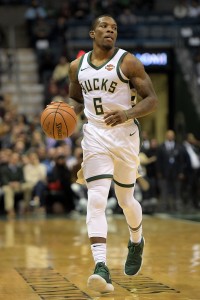 MARCH 1: Ahead of an important summer in Milwaukee, the Bucks have gotten a head start on free agency, reaching an agreement with point guard Eric Bledsoe on a four-year, $70MM contract extension, league sources tell ESPN's Adrian Wojnarowski (Twitter link).
Bledsoe, 29, is in the midst of one of the best seasons of his career in Milwaukee. In 60 games (all starts), he has recorded 15.7 PPG, 5.5 APG, and 4.6 RPG with a career-best .492 FG%, emerging as a key contributor for the Bucks, who hold the best record in the NBA at 47-14.
While Giannis Antetokounmpo is locked up through 2021, many of the Bucks' other most important players – including Bledsoe, Khris Middleton, Malcolm Brogdon, and Brook Lopez – are in contract years. As Wojnarowski tweets, Bledsoe could have tested the market in unrestricted free agency this July, but was "determined" to stay in Milwaukee and was in position to get something done early.
Middleton and Brogdon are also technically eligible for in-season veteran extensions, but are unlikely to sign them, given their respective contract situations. In Bledsoe's case, he was eligible to receive up to a 120% raise on his 2018/19 salary of $15MM for the first year of his new deal.
Although his starting salary could have maxed out at $18MM, it sounds – based on the reported terms – like Bledsoe will get a little less than that in 2019/20, which will help allow the Bucks to maximize their cap flexibility. Meanwhile, Milwaukee remains in good position to secure Middleton and Brogdon in the offseason, with Middleton viewed as the team's top priority.
The Bledsoe extension is the second noteworthy Bucks move that has been reported today. The club is also set to sign Pau Gasol, who has finalized a buyout with the Spurs.
For teams eyeing the point guard market this summer, one top option is now off the board. Bledsoe probably ranked behind Kyrie Irving, Kemba Walker, and D'Angelo Russell among FA-to-be point guards, but would have been at the top of the next tier. Clubs that miss out on those top three options now figure to focus on the likes of Terry Rozier, Ricky Rubio, Derrick Rose, and Darren Collison.
Photo courtesy of USA Today Sports Images.