MARCH 3, 6:10pm: Gasol has officially signed with the Bucks, according to a team press release.
MARCH 3, 4:30pm: Gasol has officially cleared waivers, Bobby Marks of ESPN tweets. San Antonio will have a $15.92MM cap hit this season and $5.07MM in 2019/20, Marks adds.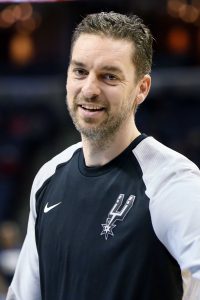 MARCH 2, 10:12am: Gasol gave back $2.5MM in salary as part of his buyout with the Spurs, tweets Shams Charania of The Athletic. The move will allow San Antonio to lower their salary cap hit for Gasol for both this season and next.
MARCH 1, 5:32pm: The Spurs and Gasol have officially finalized the big man's buyout, the team announced in a press release.
"Pau Gasol is an exceptional individual and the ultimate professional," Popovich said in a statement. "We are grateful for his contributions on the court, in the locker room and in our community."
MARCH 1, 3:46pm: The Spurs and Pau Gasol have reached an agreement on a contract buyout, which will clear the way for the veteran big man to reach free agency and join a new team, sources tell ESPN's Adrian Wojnarowski.
March 1 is the last day that a player can be waived by one team and retain his postseason eligibility for another club, so San Antonio figures to finalize the move before the end of the day in order to give Gasol the opportunity to participate in the playoffs for his new team.
That new team will be the Bucks, as Gasol intends to sign with Milwaukee once he clears waivers, Wojnarowski reports. The Bucks had been on the lookout for one more frontcourt player, having been linked to Marcin Gortat earlier today.
Gasol, whom we identified as a potential buyout candidate in February, has appeared in just 27 games and averaged a career-low 12.2 minutes per contest in San Antonio this season. Limited by injury issues early on, the 38-year-old hadn't been a regular part of the team's rotation even after getting healthy, as LaMarcus Aldridge, Davis Bertans, and Jakob Poeltl handled the majority of the minutes up front.
While Gasol's scoring numbers are way down, he has still been effective in other aspects of the game on a per-minute basis in 2018/19 — his 13.9 rebounds and 5.5 assists per 36 minutes are both career bests.
Gasol is unlikely to play a major role in Milwaukee, but he could be an important insurance policy off the bench – particularly in the postseason – on a roster that doesn't feature many traditional bigs. Joining the top-seeded Bucks could also give Gasol the chance to match up with his brother in the postseason — Marc Gasol is, of course, a member of the Raptors, the East's No. 2 seed.
Although the Bucks currently have a full 15-man roster, one of those players – Isaiah Canaan – is on a 10-day contract, so he's the likeliest candidate to be the odd man out when Milwaukee officially signs Gasol.
The exact terms of Gasol's buyout with the Spurs aren't yet known, but in addition to the prorated amount remaining on his $16.8MM salary for 2018/19, he had also been owed a $6.7MM partial guarantee on next year's salary. San Antonio figures to slightly reduce that cap charge for 2019/20 as part of the buyout agreement, ESPN's Bobby Marks notes (via Twitter).
Marks also observes that, unlike J.R. Smith's contract, Gasol's deal was signed under the current CBA and would have been subject to the new trade rules for non-guaranteed salaries in the offseason. That means the Spurs could only have counted the guaranteed portion of his deal ($6.7MM) rather than the full amount ($16MM) for salary-matching purposes if they had tried to deal him this summer, significantly limiting his appeal as a trade chip. That's likely one reason why the Spurs didn't feel the need to hang onto him.
Photo courtesy of USA Today Sports Images.