Every week, Hoops Rumors takes a closer look at players who will be free agents or could become free agents next offseason. We examine if their stock is rising or falling due to performance and other factors. This week, we turn our attention to the Northwest Division:
Isaiah Thomas, Nuggets, 30, PG (Down) – Signed to a one-year, $2MM deal in 2018
The sad and swift decline in Thomas' career hit a new low a couple of weeks ago when the veteran was informed by Nuggets coach Michael Malone he would not be in the rotation going forward. Thomas didn't even make his season debut until mid-February due to his hip condition. He has only seen action in one game since March 8 — a scoreless seven-minute stint in Boston, where his career peaked two seasons ago when he averaged 28.9 PPG. Thomas will probably have to settle for another one year, "show me" contract this summer.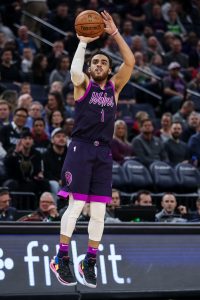 Tyus Jones, Timberwolves, 22, PG (Up) – Signed to a four-year, $6.54MM deal in 2015
Jones has received steady playing time since late February and is now the starter by default with Jeff Teague and Derrick Rose out for the rest of the season. He isn't much of a scoring threat but he rarely turns the ball over. He's averaging less than one turnover per game in 25.8 MPG this month. Teague has a $19MM option on his contract for next season and is expected to exercise it, so Jones' starting gig probably won't last. The Timberwolves can make Jones a restricted free agent by extending a qualifying offer of $3.57MM and that seems likely, given his age and steady hand at the point.
Markieff Morris, Thunder, 29, SF/PF (Down) — Signed to a one-year, $573K deal in 2019
The above salary figure doesn't reflect that Morris was making $8.6MM before he was traded by the Wizards to the Pelicans, who waived him. He seemed to be walking into a good situation with a playoff-bound team but hasn't made much of an impact. He's averaging 6.0 PPG and 3.5 RPG in 15.9 MPG in 17 appearances with Oklahoma City. He played just seven scoreless minutes against Indiana on Wednesday. Morris brings enough to the table to be a rotation piece but it's increasing unlikely he'll get a starter-level offer on the open market.
Enes Kanter, Trail Blazers, 26, C (Up) – Signed to a one-year, $653K deal in 2019
Jusuf Nurkic's gruesome leg injury changes the outlook for Kanter in the short- and long-term. He'll suddenly be playing heavy minutes for Portland, which signed him as a backup after the Knicks reached a buyout agreement with him on his $18.6MM salary this season. A productive postseason by Kanter should enhance his prospects as an unrestricted free agent. He's not going to make anyone's All-Defense team but he's a double-double machine when he plays half the game. While it seems Kanter has been around for awhile, he's still only 26 and in the prime of his career.
Derrick Favors, Jazz, 27, PF (Up)– Signed to a two-year, $37.6MM deal in 2018
Favors' $16.9MM contract for next season isn't guaranteed unless he's on the roster through July 6. That seemed unlikely from the time he signed the deal but it's not a given the Jazz will let him go. That salary isn't outrageous for a starter and the Jazz have plenty of cap room to absorb that salary. Plus, they'd need to have a solid plan to replace Favors, who has posted a 21.9 PER this season. Favors nearly got dealt to Memphis for Mike Conley and Utah could use his expiring contract in a blockbuster trade next season if it retains him.
Photo courtesy of USA Today Sports Images.