Dirk Nowitzki's 21-year career with the Mavericks came to an end this season, signaling the end of an era in Dallas. But after a pair of trades – one on 2018's draft night and one leading up to the 2019 deadline – the Mavs believe they've identified a pair of young building blocks capable of leading the franchise for years to come. In addition to Luka Doncic and Kristaps Porzingis, the Mavs are also armed with some cap flexibility entering the 2019 offseason.
Here's where things currently stand for the Mavericks financially, as we continue our Offseason Salary Cap Digest series for 2019:
Guaranteed Salary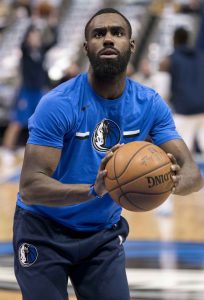 Tim Hardaway ($20,025,127)
Courtney Lee ($12,759,670)
Luka Doncic ($7,683,360)
Justin Jackson ($3,280,920)
Jalen Brunson ($1,416,852)
Ray Spalding ($708,426) — Waived
Kostas Antetokounmpo (two-way) 1
Daryl Macon (two-way) 1
Total: $45,874,355

Player Options
Team Options
Non-Guaranteed Salary
Restricted Free Agents
Kristaps Porzingis ($4,485,665 qualifying offer / $17,091,162 cap hold): Bird rights
Dorian Finney-Smith ($1,931,189 qualifying offer / $1,931,189 cap hold): Bird rights
Maxi Kleber ($1,818,486 qualifying offer / $1,818,486 cap hold): Early Bird rights
Total: $20,840,837

Unrestricted Free Agents / Other Cap Holds
Dirk Nowitzki ($9,500,000): Retiring
J.J. Barea ($7,050,615): Bird rights
Trey Burke ($1,618,486): Early Bird rights
Devin Harris ($1,618,486): Non-Bird rights
Salah Mejri ($1,618,486): Bird rights
Total: $21,406,073 3
Projected Salary Cap: $109,000,000
Projected Tax Line: $132,000,000
Offseason Cap Outlook

Realistic cap room projection: $29.33MM. This scenario would see the Mavericks retain all their players on guaranteed contracts, including Powell (if he opts in), along with the cap holds for Porzingis, Finney-Smith, and Kleber. Once they use up their space, they could go over the cap to re-sign their three RFAs.
The Mavs could potentially clear a little more cap room if they agree to a longer-term deal with Powell that lowers his cap hit for 2019/20. Stretching Lee would also be an option to create about $7.6MM in extra space, but in order to seriously consider such a move, the team would need to have a clear, pressing need for that space.
Max cap room scenario: $48.26MM. This would be achieved by Powell opting out, followed by the Mavs renouncing all of their non-Porzingis free agents, waiving all their non-guaranteed salaries, and stretching Lee. It's probably not a realistic outcome.
Cap Exceptions Available
Trade exception: $1,233,152 (expires 1/31/20) 4
Trade exception: $21,299,378 (expires 2/7/20) 4
Room exception: $4,760,000 5
Footnotes
The salaries for two-way players don't count against a team's cap.
Broekhoff's salary becomes fully guaranteed after June 29.
The Mavericks have a 26.2% chance of moving up into the top four in the draft lottery and keeping their first-round pick. In that scenario, a cap hold for the pick would be added to this list.
The Mavericks will lose these exceptions if they go under the cap to use room.
This is a projected value. In the event that the Mavericks remain over the cap, they'd instead gain access to the mid-level exception ($9,246,000) and bi-annual exception ($3,619,000).
Note: Minimum-salary and rookie-scale cap holds are estimates based on salary cap projections and could increase or decrease depending on where the cap lands.
Salary information from Basketball Insiders and RealGM was used in the creation of this post. Photo courtesy of USA Today Sports Images.