Every week, Hoops Rumors takes a closer look at players who will be free agents or could become free agents next offseason. We examine if their stock is rising or falling due to performance and other factors. With the playoffs underway, we turn our attention to the Eastern Conference:
Michael Carter-Williams, Magic, 27, PG (Up) – Signed to a one-year, $60K deal in 2019
Carter-Williams was scrounging for work six weeks ago after getting traded from Houston to Chicago in early January and then immediately getting waived. The former Rookie of the Year had to settle for 10-day contracts with Orlando before he was signed for the remainder of the season. Not only did he help the Magic reach the playoffs, he's been one of their main cogs off the bench against Toronto. He posted 10 points, five rebounds and two assists in Orlando's Game One upset. Carter-Williams has played well enough to receive offers commensurate to other veteran backup point guards.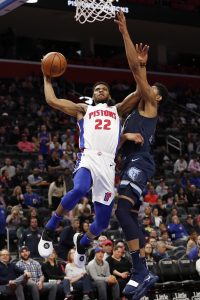 Glenn Robinson III, Pistons, 25, SF (Down) – Signed to a two-year, $8.35MM deal in 2018
With Blake Griffin sidelined by a knee in the first two games against Milwaukee, Robinson got one last chance to convince the Pistons that they should exercise their $4.3MM option on him for next season. Robinson has been utilized as an undersized power forward in the series but his perimeter shooting woes have continued. After shooting just 29% from deep and falling out of Dwane Casey's rotation during the regular season, Robinson has made just one of his eight 3-point attempts in the first two games. Robinson will assuredly return to the free agent market this summer.
Pat Connaughton, Bucks, 26, SG (Up) — Signed to a two-year, $3.36MM deal in 2018
Connaughton's modest salary of $1.723MM for next season becomes guaranteed if he's still on the roster July 1st. That already seemed like a good bet heading into the postseason; now it's a no-brainer. He's taken advantage of an expanded role with Malcolm Brogdon and Tony Snell sidelined by injuries. Connaughton has been a difference-maker against Detroit, averaging 14.0 PPG on 73.4% shooting and 8.5 RPG in 29.5 MPG. He also recorded four blocks on perimeter shooters in Game Two. He'll be one of the league's best bargains next season.
Jeremy Lin, Raptors, 30, PG (Down) – Signed to a one-year, $487K deal in 2019
Lin chose the Raptors after agreeing to a buyout with the Hawks in mid-February. The expectation was that he would bolster the playoff rotation behind Kyle Lowry. But Lin has had trouble finding his footing in Toronto and with Fred VanVleet healthy, he has been the odd man out in the postseason. He never left the bench in the Game One loss to Orlando and played four meaningless minutes in Game Two. Lin should still find work this summer but he'll likely have to settle for something close to the veteran's minimum.
Photo courtesy of USA Today Sports Images.