Hornets center Bismack Biyombo has exercised his 2019/20 player option, reports Shams Charania of The Athletic (via Twitter). By opting in, Biyombo will assure himself of a $17MM salary for next season.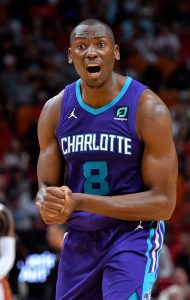 Biymobo, who signed a four-year, $68MM contract with the Magic in the summer of 2016, was traded to the Hornets in a three-team deal during the 2018 offseason. He subsequently appeared in 54 games (32 starts) for Charlotte, averaging 4.4 PPG, 4.6 RPG, and 0.8 BPG in 14.5 minutes per contest.
Biyombo's decision comes as no surprise, given his limited role over the last few seasons and the fact that he's unlikely to secure another major payday in free agency. With Marvin Williams planning to exercise a $15MM+ player option of his own, the Hornets can count on an extra $32MM+ in guaranteed money hitting their cap for 2019/20.
[RELATED: NBA Player Option Decisions For 2019/20]
With those two options locked in, the Hornets' team salary for '19/20 is up to approximately $81MM, per Basketball Insiders. That figure doesn't include Michael Kidd-Gilchrist's $13MM option, which is also a decent bet to be picked up, or Tony Parker's $5.25MM non-guaranteed salary. And, most notably, it doesn't include a salary for Kemba Walker, who will be an unrestricted free agent this offseason.
In other words, the Hornets already project to be an over-the-cap team even before determining whether they can retain their All-Star guard, so it will be difficult for the club to add roster reinforcements this summer.
As for Biyombo, he's now on track to reach unrestricted free agency in July of 2020, assuming he's not bought out or released outright before then.
Photo courtesy of USA Today Sports Images.