12:27pm: The Kings have now fired Joerger, officially announcing the decision in a press release.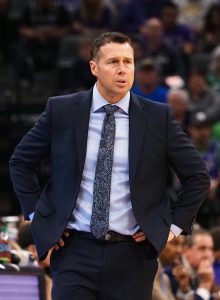 "After evaluating the season, I determined that we need to move in a different direction in order to take us to the next level," Divac said in a statement. "On behalf of the entire Kings organization, I want to thank Dave for his contributions to our team and I wish him all the best."
11:08am: Kings general manager Vlade Divac is having a face-to-face meeting with head coach Dave Joerger today and intends to fire Joerger during that sitdown, league sources tell ESPN's Adrian Wojnarowski (Twitter link).
[RELATED: Kings sign Vlade Divac to contract extension]
It's a somewhat surprising move, given the success Joerger had with the young Kings this season. The club was in playoff contention through the All-Star break and finished with 39 wins, the most victories a Sacramento team has had since the 2005/06 season. Under Joerger, guards De'Aaron Fox and Buddy Hield enjoyed breakout seasons, with young players like Bogdan Bogdanovic, Harry Giles, and Marvin Bagley also showing promise.
However, the Kings slumped at the end of the season, going 9-17 down the stretch and losing some games that they shouldn't have. Additionally, Joerger reportedly had some tension with the team's front office throughout the year related to minutes for young players, and notably clashed with assistant GM Brandon Williams. An earlier report from Sam Amick of The Athletic (Twitter link) indicated that Williams won't be back next season either.
In three total seasons with the Kings, Joerger posted a 98-148 (.398) record, with no playoff appearances. He previously coached the Grizzlies for three years, posting a 147-99 (.598) regular-season mark in Memphis, with a 9-13 record in four playoff series. Joerger had one year remaining on his contract with the Kings.
Wojnarowski suggests (via Twitter) that Divac, with a new contract extension in hand, is "consolidating power" around himself in the Kings' front office. He'll presumably take the lead in picking Joerger's replacement.
According to Marc Stein of The New York Times (via Twitter), Luke Walton would be a top candidate for Sacramento if the Lakers let him go, though Walton isn't necessarily a lock to be replaced in L.A. now that Magic Johnson has stepped down. ESPN's Zach Lowe (via Twitter) also identifies Spurs assistant Ettore Messina as a name to watch in Sacramento, while Amick (via Twitter) adds Sixers assistant Monty Williams to the list of potential candidates for the Kings.
As for Joerger, the Minnesota native has frequently been linked to the Timberwolves' head coaching job, as Lowe notes (via Twitter). However, there's a belief that Ryan Saunders might hang onto his position with the Wolves — that situation is in flux, as Minnesota seeks a new president of basketball operations.
Photo courtesy of USA Today Sports Images.