The Wizards have decided to part ways with longtime president of basketball operations Ernie Grunfeld, league sources tell Marc Stein of The New York Times (Twitter link). According to Stein (via Twitter), Grunfeld was informed of the decision today by team owner Ted Leonsis.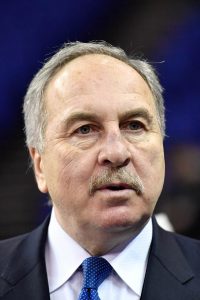 The Wizards have confirmed the move in a press release, announcing that senior vice president of basketball operations Tommy Sheppard will assume interim GM duties. The club will launch its search for a permanent head of basketball operations at season's end, and will consider Sheppard a candidate.
"We did not meet our stated goals of qualifying for the playoffs this season and, despite playing with injuries to several key players, we have a culture of accountability and a responsibility of managing to positive outcomes," Leonsis said in a statement. "I wish to thank Ernie for his service to the Washington Wizards. He and his family have been great leaders in our community and have worked tirelessly to make us a top NBA franchise."
Grunfeld, who had been one of the NBA's longest-tenured top executives, took over as the Wizards' president of basketball operations back in the summer of 2003. Since then, the team has compiled a record of 568-724 (.440) and made the playoffs eight times. Washington has never advanced beyond the second round of the postseason during that 16-year stretch.
In recent years, the Wizards failed to live up to lofty expectations with a roster that featured All-Star guards John Wall and Bradley Beal. The team finished eighth in the Eastern Conference a year ago and was bounced in the first round of the playoffs before missing the postseason entirely this spring.
Grunfeld has also made some questionable salary-cap decisions in recent years, including long-term, big-money deals for Wall and Ian Mahinmi. Wall's four-year super-max extension, worth a projected $170MM, will go into effect this summer, so the new head of basketball operations will have to work around that contract.
It remains to be seen which direction the Wizards will go under new management, but with Wall expected to miss most or all of the 2019/20 season due to an Achilles tear, a retooling – or even a full-scale rebuild – appears likely. Beal will be a key player to watch going forward — Grunfeld and Leonsis had stated they were committed to keeping the star guard in D.C., but it's possible a new general manager will view things differently.
It also makes sense to keep an eye on head coach Scott Brooks, though as Jeff Zillgitt of USA Today notes (via Twitter), Brooks still has two years and $14MM left on his contract. He seems like a good bet to be back for 2019/20 at least.
While no specific names have been cited yet as Grunfeld's potential long-term replacement, ESPN's Adrian Wojnarowski reports (via Twitter) that team ownership has been active in pursuing search films to help with the hiring process. Wojnarowski suggests that it should be an attractive job, given the geography and the resources available.
The Pelicans, the Suns, and perhaps the Timberwolves will be among the other teams competing with the Wizards for general manager candidates this spring. Stein hears from league sources that Sheppard, Grunfeld's interim replacement, will receive consideration from the Pelicans for their GM opening (Twitter link). New Orleans is also interviewing executives Larry Harris (Warriors), Trajan Langdon (Nets), and Gersson Rosas (Rockets), all of whom could be of interest to Washington.
Photo courtesy of USA Today Sports Images.