After narrowly missing the playoffs in 2018, the Nuggets expressed confidence in their core by bringing back virtually the same group, and that bet paid off to the tune of 54 regular-season victories, the No. 2 seed in the West, and the club's first playoff series win since 2009. The Nuggets will count on continued improvement from some of their young players going forward, but the team may also have a little flexibility to add more reinforcements.
Here's where things currently stand for the Nuggets financially, as we continue our Offseason Salary Cap Digest series for 2019:
Guaranteed Salary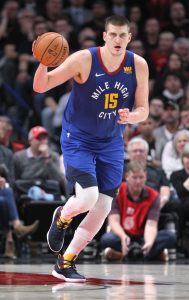 Nikola Jokic ($27,504,630)
Gary Harris ($17,839,286)
Mason Plumlee ($14,041,096)
Will Barton ($12,776,786)
Jamal Murray ($4,444,746)
Michael Porter ($3,389,400)
Juan Hernangomez ($3,321,030)
Malik Beasley ($2,731,714)
Torrey Craig ($2,000,000)
Monte Morris ($1,588,231)
Jarred Vanderbilt ($1,416,852)
Thomas Welsh (two-way)
Total: $91,053,771

Player Options
Team Options
Non-Guaranteed Salary
Restricted Free Agents
Unrestricted Free Agents / Other Cap Holds
Projected Salary Cap: $109,000,000
Projected Tax Line: $132,000,000
Offseason Cap Outlook

Cap room projection w/Millsap: $0

There are few wild cards on the Nuggets' books this offseason, but Millsap is a big one. Even if his $30MM option for 2019/20 is declined – which is a safe bet – re-signing him to a more modest deal would likely eat up any available cap room and make Denver an over-the-cap team. In that scenario, the Nuggets would have the mid-level ($9.25MM) and bi-annual ($3.62MM) exceptions available, along with a series of trade exceptions, detailed below.
Cap room projection w/o Millsap: $17MM
On the other hand, if Millsap is renounced, the team could create up to about $17MM in space without shedding any other salaries. That's not enough to contend for maximum-salary free agents, but the players a notch or two below that tier could be within reach.
Cap Exceptions Available
Trade exception: $12,800,562 (expires 7/8/19)
Trade exception: $13,764,045 (expires 7/15/19)
Trade exception: $5,919,961 (7/15/19)
Mid-level exception: $9,246,000 4
Bi-annual exception: $3,619,000 4
Footnotes
The salaries for two-way players don't count against a team's cap, but their cap holds do during the offseason.
Because Lydon's fourth-year rookie scale option was declined, the Nuggets are ineligible to offer him a starting salary greater than his cap hold.
The cap hold for Jefferson remains on the Nuggets' books because he hasn't been renounced after going unsigned in 2018/19. He can't be used in a sign-and-trade deal.
These are projected values. In the event the Nuggets use cap room, they'd lose these exceptions, plus their trade exceptions, and would instead would gain access to the $4,760,000 room exception.
Note: Minimum-salary and rookie-scale cap holds are estimates based on salary cap projections and could increase or decrease depending on where the cap lands.
Salary information from Basketball Insiders, ESPN.com, and RealGM was used in the creation of this post. Photo courtesy of USA Today Sports Images.