2:24pm: The Bulls have officially announced Boylen's extension (via Twitter).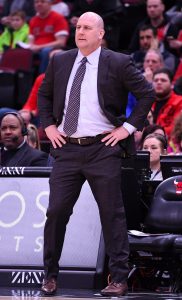 The new contract will replace his previous deal, per Wojnarowski and Malika Andrews at ESPN.com.
"He has tremendous passion for developing young talent, is a strong communicator and a good fit for this team," VP of basketball operations John Paxson said in a statement. "The organization is confident in the direction that he is taking our players, and we are committed to him."
2:05pm: The Bulls and Jim Boylen have agreed to terms on a deal that will extend the head coach's contract, according to Adrian Wojnarowski of ESPN.com (via Twitter).
Last month, Joe Cowley of The Chicago Sun-Times reported that Boylen and the Bulls were in the process of finalizing a three-year extension. Wojnarowski doesn't provide the specific terms, but says it will be a "multiyear" extension, an indication that the two sides have completed the deal first reported by Cowley.
Boylen, who took over as the Bulls' head coach when Fred Hoiberg was dismissed during the 2018/19 season, was already under contract for next season and was expected to be retained even before word of his extension broke. NBA teams rarely let head coaches enter a season on an expiring contract, so it makes sense that Boylen would get a couple more years tacked onto the end of his deal. He may be in line for a raise as well, as his '19/20 salary of $1.6MM was said to be partially guaranteed for $1MM.
Although his 17-41 record this season wasn't great, Boylen earned the trust of the Bulls' front office, who frequently praised his tough-love approach and his ability to motivate players and hold them accountable — even after an eventful first week in which players pushed back against Boylen's aggressive practice schedule.
Bulls ownership and management view Boylen as the teacher that the club's young roster needs, and love the way he was able to build relationships with his players, per Wojnarowski (via Twitter).
As K.C. Johnson of The Chicago Tribune tweets, the decision to extend Boylen also relates to the Bulls' desire to upgrade their coaching staff. With the head coach secure going forward, it should be easier for him to recruit a new lead assistant.
Photo courtesy of USA Today Sports Images.