The NBA has officially announced its All-Defensive teams for the 2018/19 season, with Jazz center Rudy Gobert once again coming in as the leading vote-getter.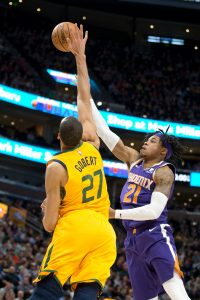 Gobert, a candidate for Defensive Player of the Year, was listed on 99 of 100 ballots, with 97 of those ballots giving him a First Team vote, for a total of 196 points (two points per First Team vote; one point per Second Team vote). The All-Defensive nod ensures that the big man receives a $500K bonus, which had been considered likely since he was named to an All-Defensive team last season, tweets ESPN's Bobby Marks.
Gobert was closely followed by fellow Defensive Player of the Year candidates Paul George (Thunder) and Giannis Antetokounmpo (Bucks), who received 195 and 193 total points, respectively.
[RELATED: NBA Announces 2018/19 All-Rookie Teams]
Pelicans guard Jrue Holiday secured a $100K bonus by earning a spot on the All-Defensive Second Team, notes Marks (via Twitter). Like Davis, he was an All-Defensive player last season as well, so that bonus had been considered likely — his cap hits for this year or next won't be impacted by him earning it.
Here are the full voting results for the All-Defensive First and Second Teams, with each player's point total noted in parentheses:
First Team:
Second Team:
Raptors guard Danny Green actually totaled 66 points, including 19 First Team votes, while Clippers guard Patrick Beverley had 48 points (14 First Team votes). However, All-Defensive teams are determined by position, so they didn't make the cut because they ranked fifth and sixth in voting among guards.
Pacers center Myles Turner (39 points), Rockets forward P.J. Tucker (38), Raptors forward Pascal Siakam (24), and Spurs guard Derrick White (15) were the other leading vote-getters.
You can find the full voting results right here.
Photo courtesy of USA Today Sports Images.