Nets shooting guard Allen Crabbe has exercised his player option for the 2019/20 season, reports Adrian Wojnarowski of ESPN.com (via Twitter). The move locks in his $18.5MM salary for next year, putting him on track to reach unrestricted free agency in 2020.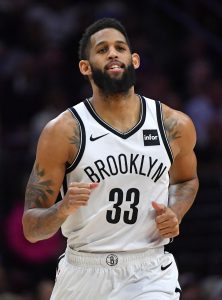 Crabbe initially signed a four-year offer sheet worth nearly $75MM with the Nets back in 2016. The Trail Blazers matched that offer and retained Crabbe for the following season, but traded him to Brooklyn in a salary-dump deal during the 2017 offseason.
The 27-year-old's play during his two years with the Nets has been somewhat underwhelming. After shooting 41.1% from three-point range in Portland, he has made 37.8% of his attempts in Brooklyn, albeit on a higher volume of shots. In 2018/19, he was limited to just 43 games due to knee issues and averaged 9.6 PPG in 26.3 minutes per contest.
Given his modest production, there was never a doubt that Crabbe would opt into the final year of his contract, but that doesn't necessarily mean that he's a lock to be on the Nets' roster next season. Michael Scotto of The Athletic suggested earlier this week that he wouldn't be surprised if the club explores the trade market for Crabbe, perhaps dangling Denver's late first-round pick or an early second-rounder in an effort to sweeten the deal.
As long as Crabbe remains on the roster, his $18.5MM cap hit will limit the Nets' ability to make major moves in free agency this summer. With that money – along with cap holds for D'Angelo Russell and their first-round picks – on the books, Brooklyn projects to have up to about $30.3MM in cap space, which wouldn't be enough for a maximum salary contract for a veteran player (with seven-plus years of experience).
[RELATED: Maximum Salary Projections For 2019/20]
If the Nets don't find a trade they like for Crabbe and want to create a max slot, waiving and stretching him could also be an option. Doing so would reduce his 2019/20 cap hit to just under $6.2MM, though it would add identical charges to the team's books for the following two seasons as well.
Crabbe is the latest in a string of veterans who have picked up player options since the regular season ended in April, joining Jeff Teague, Kent Bazemore, Dwight Howard, and others. The full breakdown of this year's player option decisions can be found right here.
Photo courtesy of USA Today Sports Images.