3:15pm: The Timberwolves have officially confirmed that Saunders has been named the team's permanent head coach.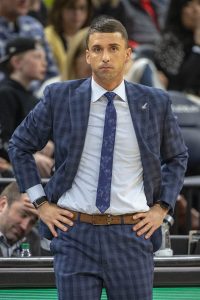 "I'm pleased to announce Ryan Saunders as our head coach," Rosas said in a statement. "Ryan is an excellent communicator and has developed open and trusting relationships with our players. I've known Ryan for many years and have always respected his approach to the game, work ethic, basketball knowledge and passion. His coaching style and philosophies are ideal for the modern NBA and I am confident that as a partner he will get the most out of our players as we build an identity and a sustainable winning model."
8:42am: Saunders and the Timberwolves are now in agreement on a multiyear deal that will make him the team's permanent head coach, reports Shams Charania of The Athletic (via Twitter).
7:25am: Despite opening up their search for a permanent head coach last week, the Timberwolves are prepared to remove Ryan Saunders' interim title and retain him going forward, according to reports from Jon Krawczynski of The Athletic and ESPN's Adrian Wojnarowski (Twitter links).
Krawczynski first reported that the Timberwolves and Saunders are negotiating a new contract that is expected to be finalized in the coming days. Per Wojnarowski, Saunders is already working on putting together his staff for the 2019/20 season.
The general consensus among Wolves players, including Karl-Anthony Towns, was that Saunders should be brought back, but new head of basketball operations Gersson Rosas did his due diligence after assuming control of the club's front office earlier this month.
Heat assistant Juwan Howard, Bucks assistant Darvin Ham, Pelicans assistant Chris Finch, and Trail Blazers assistant David Vanterpool all received consideration from Minnesota for the team's head coaching job. Ultimately, the Wolves circled back to Saunders, who will become the NBA's youngest permanent head coach. Flip Saunders' son turned 33 last month.
Having taken over on the sidelines for the Wolves after Tom Thibodeau was dismissed halfway through the 2018/19 season, Saunders guided the team to a 17-25 (.405) record in his first stint as a head coach. He had to deal with injuries to several rotation players during that stretch, with Robert Covington, Derrick Rose, Jeff Teague, and others missing significant chunks of the second half.
According to Krawczynski, Rosas is said to favor the Rockets' model of having a defensive specialist complement the head coach. In Houston's case, that meant Jeff Bzdelik playing a key role on Mike D'Antoni's staff. The Wolves will likely hire their own defensive guru, and will also focus on adding player-development specialists to Saunders' staff.
With the Wolves set to formally reach a deal with Saunders, the Grizzlies will be the only NBA team still in the market for a new head coach, as our tracker shows.
Photo courtesy of USA Today Sports Images.